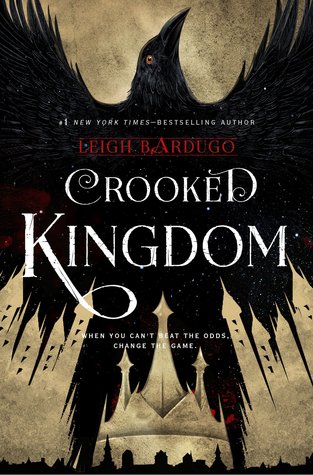 As you all know by now, I absolutely love Six of Crows and have been eagerly anticipating Crooked Kingdom. When I found out Leigh Bardugo was going to be within about an hour of where I live I knew I wanted to go. But I was also really nervous about driving to the big city by myself. I had asked one of my favorite blog/internet friends, Amanda, if she was familiar with the area (we discovered once that we don't live too far apart). She had never read anything by Bardugo before, but decided to give her a try and ended up loving both the Shadow and Bone series and Six of Crows and decided she wanted to go to the event, too. She even offered to meet me part way and drive us the rest of the way!
Though I'm super awkward by nature, it wasn't really that awkward meeting Amanda for the first time (she may think differently, though, haha). We talked about books, of course. She's so nice and it was so cool to finally meet someone in person that I've talked to for so long online.
Ok, on to the main event. Leigh Bardugo is so cool and so funny! A guy who does pod casts for Overdrive moderated the event, asking Leigh questions and then helping field questions from the audience. There were not as many book spoilers as I was expecting/hoping for. But, she talked a lot about writing process and characters. I also learned that the moment she fell in love with Kaz from Six of Crows was during the "eyeball scene" on the boat – she thought it was romantic. That was also the moment Kaz really solidified himself in my heart (I even mention it's a reason I loved him in my review haha).
Overall, it was such a fun event! Leigh Bardugo is one of my favorites, so it was so cool to finally get to meet her and get my books signed. If you have the opportunity to go see her, I hope you do!