October was kind of a rough month for me. Work was pretty awful. A lot of new fee changes that we weren't really trained on or understand went into effect and we're all kind of scrambling to figure things out. There was also some pretty significant family drama. Lots of big changes ahead. If you are a praying person, please say a prayer for my family if you think of it. And a special thanks to Deanna for letting me vent to her! …In book news I am proud of the number of reviews I ended up posting, but I didn't read as much as I would have liked. I took part in a book tour – just my second in the 4 years I've been blogging. I decided that I won't be signing up with that particular tour host again. I found the information and graphics they provided hard to use (though I will take responsibility that it was probably my own user error that I couldn't get them all to format correctly) and they did nothing at all to promote my leg of the tour. I only saw a couple of tweets from them during the whole tour actually. Maybe that's normal for blog tours? Please share your experience with various blog tour hosts in the comments, if you have any.
Books Read: 9
Adult: 8
YA: 1
Favorite Books I Read This Month: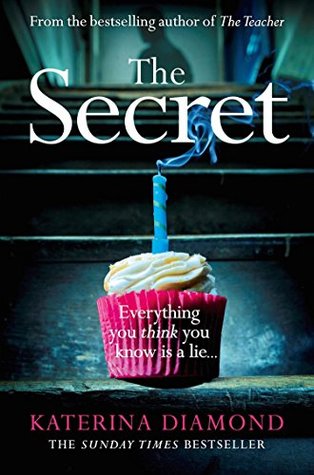 I read all of the DS Imogen Grey series this month and I love them!
  Books Reviewed: 7
13 Minutes by Sarah Pinborough – 3.5/5 Stars
There's Someone Inside Your House by Stephanie Perkins – 1/5 Stars
How I Lost You by Jenny Blackhurst – 2.5/5 Stars
The Secret (Imogen Grey #2) by Katerina Diamond – 4/5 Stars
Pride and Prejudice and Mistletoe by Melissa de la Cruz – 3/5 Stars
The Angel (Imogen Grey #3) by Katerina Diamond – 4/5 Stars
My New Crush Gave to Me by Shani Petroff – 3/5 Stars
Books Read in 2017 Overall: 118
Funny Fridays:
Other Posts:
Top 5 Wednesday: Non-Horror Books that Scared Me
Reviewing the Unreviewed: October 2017
Fall TV Disappointments:
I have not found one new show that I liked enough to watch past the pilot. I tried: Young Sheldon, 9JKL, Seal Team, Valor, Ghosted, and The Good Doctor. After watching Once Upon a Time to find out how they explained having Hook on the show without Emma I am now done with that show. The only reason I watched it the last couple seasons was because I was a Captain Swan shipper. I also am finding  the second season of Riverdale pretty disappointing so far and am really hoping it gets better soon.