I read a lot of books that I don't end up reviewing for whatever reason. Some because I wasn't impressed. Some because I didn't have the time. Some I just wasn't feeling it on whatever particular day I finished. I thought I'd start doing a post once a month  with just the couple thoughts I shared on Good Reads.
By Your Side by Kasie West. Read January 31-Feb 1. 3.5 Stars.
I enjoyed the second half of this book much more than the first half. I thought I would be disappointed when the story shifted from being trapped in the library into the real world, but it actually got a lot better.
I appreciated the main character having anxiety, but didn't really feel like it was that great of a representation. There were a few times that I thought were kind of spot on, though. I did like how it showed how anxiety can make you appear to other people. However, once all of Autumn's friends knew she had anxiety they were perfectly understanding and I don't think that's very realistic (at least not in my own experience).
I liked Dax and his sarcasm and how he looked out for Autumn. I thought he was really sweet. It did take about half the book until I felt the romance was cute and I wish it would've happened sooner, but it did eventually get super cute and I shipped it.
Overall, I liked this, but it definitely wasn't my favorite book by this author. While I really enjoyed the second half of the book, I have to admit the first half was only ok. That's why I'm giving it 3.5 stars instead of 4.
A Dark and Twisted Tide (Lacey Flint #4) by Sharon Bolton. Read February 2-5. 4 Stars.
This was probably my least favorite of the series, but still good. The plot felt a little convoluted at times, but it all came together by the end. I really like all of these characters and enjoy reading about them. I wish there were more Joesbury, but next up there's a novella that I believe is from his POV, so that should make up for it.
Here Be Dragons (Lacey Flint 4.5) by Sharon Bolton. Read February 5. 4 stars.
A pretty short, well-paced story told from entirely Joesbury's POV. We get the whole story of what he was doing during the events of "A Dark and Twisted Tide", plus a little more action. The ending included some major Joesbury-Lacey Feels and I can not believe that the author hasn't even announced yet when the next book in this series will be. I need more!
The Law of Moses (The Law of Moses #1) by Amy Harmon. Read February 1-6. 4 Stars.
Beautiful. Clever. A little on the weird side. This is my second Amy Harmon book and she is quickly on her way to becoming one of my favorite authors. I loved Moses and his POVs were the best parts of the book for me. I liked Georgia, but not quite as much as Moses. I also really liked Tag and am looking forward to reading his book. Definitely recommend this one.
The Song of David (The Law of Moses #2) by Amy Harmon. Read February 7-9. 3 Stars.
I loved that this story was told from both Tag's and Moses' POVs. I liked the style of getting Tag's POV through tapes he recorded and Moses' POV in the present. I loved Moses just as much, but didn't quite love Tag as much as I did in the previous book. His behavior just made me really angry sometimes. I liked both Millie and Henry and thought their disabilities were portrayed well. The reason this book isn't getting 4 stars from me, though, is that I don't like open-ended books and I didn't feel satisfied with the conclusion of this one. Though Harmon did an admirable job of trying to convey that the black and white answer wasn't needed, it just wasn't enough for me. Overall, though, it was a good book that I would still recommend you read if you've read The Law of Moses.
A big thank you to Deanna  for loaning me a copy of the book!!
Defying Gravity (Finding Perfect #2) by Kendra C. Highley. Read February 9-11. 2.5 Stars.
Zoey was a pretty unlikable character. I hated how wishy-washy and shallow she was – while we were supposed to think she was the opposite of shallow. Luke's character make absolutely no sense whatsoever. I liked Parker, he was the saving grace of the book.
I read a lot of YA, even though I am around twice the age of the main characters. Usually I can still really appreciate them, but this is one of those books that makes me think I'm getting too old for YA.
All the Missing Girls by Megan Miranda. Read February 11-12. 4 Stars.
I liked this. This is my second Megan Miranda book and I'm still not sure I'm entirely sold on her writing style, but she is pretty great at character development. I don't think the "backwards" storytelling was done as effectively as it could have been (I've seen it done better). There were only really two somewhat surprising reveals until it got close to the end of the book, so it seemed to drag a bit to me. However, I think that I will definitely re-read this sometime and read it in chronological order instead and see if things make sense. I did like the mystery, though, and I even liked the characters, even though they aren't really the type of people you want to be rooting for. I found this one much more compelling than "The Perfect Stranger" and I'm sure I'll give this author's other future books a try.
Little Black Lies by Sharon Bolton. Read February 13-16. 3 Stars.
Good writing, good character development, steady pacing. Unfortunately, I just didn't really care for the story. The characters were all unlikable, but I think they were supposed to be. I guessed who was behind the missing children long before the end and I didn't really like the lack of impact the reveal had. There was also a lot of historical information about the Falklands that I felt took away focus a bit from the actual plot. Not a bad book at all (I don't think Bolton can write a bad book), but pretty different from her Lacey Flint series that I love.
Accidentally on Purpose (Heartbreaker Bay #3) by Jill Shalvis. Read February 17-19. 3.5 Stars.
A very cute romance. I think maybe I would have appreciated it just a bit more if I read the other books in the series first and knew the side characters better, but it still worked as a standalone. There wasn't a whole lot of actual plot, but Archer and Elle's relationship was fun enough to read that it didn't really matter.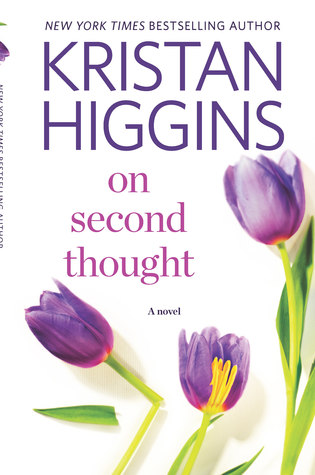 On Second Thought by Kristan Higgins. Read February 17-21. 3 Stars.
It took me quite a long time to get into this book. If it wasn't Kristan Higgins then I probably would have put it down to try another time. However, I am glad I kept reading. The character development was very good and I did like both Kate and Ainsley and their new romantic interests. Where Higgins writing really shines is with the romance and I wish this book would have focused a little more on that. I found myself skimming a lot of the rest of it. I know this is another foray into the "Women's Fiction" world for this author instead of just a light and fluffy contemporary, but Higgins is my go-to when I want light and fluffy and I found myself just slightly disappointed that this wasn't like the other books from her that I love.
The Perfect Girl by Gilly Macmillan. Read February 25-26. 3 Stars.
I liked the writing in this a lot and thought the multiple 1st Person POVs were done exceptionally well. Though I found the story kind of boring for the most part, it was written in such a way that I didn't really want to put it down. I think one of my biggest pet peeves in fiction is when the main conflict in a story comes from poor communication and that's what much of this book felt like to me. While I did feel sorry for things that happened to Zoe, I also was super annoyed by her behavior almost the whole time. Overall a bit of a disappointing story, but the writing really saved it for me.
****************BACK ON THE TBR****************
Silent Scream by Anglea Marsons. I got this from the library and read just a couple chapters before it became a victim of too many books in too little time. I will definitely give it another try, though.