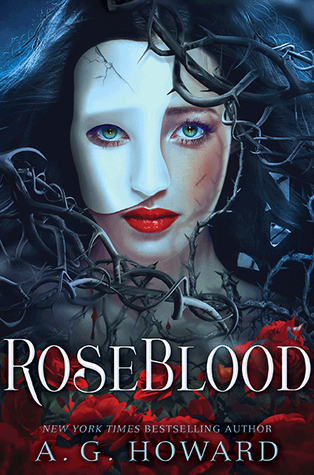 Synopsis from Good Reads:
In this modern day spin on Leroux's gothic tale of unrequited love turned to madness, seventeen-year-old Rune Germain has a mysterious affliction linked to her operatic talent, and a horrifying mistake she's trying to hide. Hoping creative direction will help her, Rune's mother sends her to a French arts conservatory for her senior year, located in an opera house rumored to have ties to The Phantom of the Opera.

At RoseBlood, Rune secretly befriends the masked Thorn—an elusive violinist who not only guides her musical transformation through dreams that seem more real than reality itself, but somehow knows who she is behind her own masks. As the two discover an otherworldly connection and a soul-deep romance blossoms, Thorn's dark agenda comes to light and he's forced to make a deadly choice: lead Rune to her destruction, or face the wrath of the phantom who has haunted the opera house for a century, and is the only father he's ever known.

A. G. Howard brings the romantic storytelling that Splintered fans adore to France—and an entirely new world filled with lavish romance and intrigue—in a retelling inspired by a story that has captivated generations. Fans of both the Phantom of the Opera musical and novel, as well as YA retellings such as Marissa Meyer's Cinder, will devour RoseBlood.
I received a copy of this title from NetGalley. It does not impact my review.
RoseBlood will be available January 10, 2017
What I Liked
-I enjoy re-tellings and while this was a little more of a spin-off than a re-telling, it still worked for me. I've always been a Phantom of the Opera fan (well, except maybe when I was pretty young and my family used to listen to the soundtrack on road trips and it kind of scared the crap out of me at the time…but I definitely grew into it) and it's definitely a unique topic in the YA market.
-The duel narration completely saved this book for me. We get Rune's 1st Person POV and Thorn's 3rd Person POV (I'm not really sure why they didn't both get 1st Person, but that's ok). While with Rune we were often stumbling around in the dark trying to figure out what was going on, with Thorn we get background and answers and insight. With him we get to see the actual Phantom of the Opera that I had been hoping for when I picked up this book. As a character I found him so much more interesting than Rune and I was always counting the pages until we got to see him again.
-The romance. Though it appears to be "insta-love", it does have a good excuse for it. I liked Rune and Thorn together and shipped them.
-That cover. It's beautiful.
-The Author Note at the end of the book where Howard details a lot of information from her research was almost more interesting than the book. A lot of the historical information in the book was accurate and it made me want to read more about the original book and it's inspiration.
What Didn't Quite Work For Me
–**MILD SPOILER**   Two words: Psychic Vampires
-Ok, a few more words: This was a lot more supernatural than I was expecting it to be. While it, of course, needed a certain amount of fantasy elements there were a lot more than I expected or wanted. If you go into this knowing that, though, then I think you would probably like it.
-I spent a good portion of this novel confused. I think it took far too long to get to the point. Howard is an extremely detailed writer and I know a lot of readers love that, but for me a ton of description is hard for me to get through. Add that to the long chapter length and I found this book took me a lot longer to get through than a book normally does.
-Rune's new "friend" Sunny. I HATED her. She did occasionally have redeeming moments, but she spent the whole book sneaking around and spying and crossing all sorts of friendship lines that I found myself kind of hoping she'd be killed off. The fact that Rune viewed her as this great friend kind of enraged me.
Overall
RoseBlood was a very interesting idea that didn't quite live up to it's potential for me. Two likable main characters (especially Thorn) and lots of references to the original Phantom of the Opera story were really well done. However, the major fantasy/supernatural elements were unexpected and hampered my enjoyment a bit. I also thought it was a little too long and too descriptive. I do think that fans of Howard's Splintered series and those who are looking for a different type of re-telling will enjoy it.
Overall Rating (out of 5): 3 Stars