I read a lot of books that I don't end up reviewing for whatever reason. Some because I wasn't impressed. Some because I didn't have the time. Some I just wasn't feeling it on whatever particular day I finished. Reviewing the Unreviewed is my monthly post where I share my few thoughts on all the books I didn't formally review.
The Kind Worth Killing by Peter Swanson. Read May 4-6. 3.5 Stars.
I recently read All the Beautiful Lies and liked it, but everyone else seemed to think it wasn't as good as Swanson's previous books and The Kind Worth Killing was mentioned to me several times. I think that gave me really high expectations for this that weren't quite met.
I liked the multiple POVs. The characters were all awful, but often fascinating. I thought the first twist was really good, but after that my guard was up and I didn't really find anything else that surprising. Overall I thought this was good, but it didn't really grip me like I was hoping it would.
Operation Prom Date (Tactics in Flirting #1) by Cindi Madsen. Read May 12-13. 4 Stars.
I was in the mood for something cute and light and decided to give this one a try when I saw there was no wait for it at the library and I am so glad I did! It was so freaking cute! I loved Kate and Cooper and shipped them pretty hard. I also loved all Kate's talk about the characters she shipped ("I used to be all about Damon and Elena, but there toward the end, I shipped her and a coffin." Lolol). I loved how kind of nerdy Kate was and she made me laugh several times. If you're looking for a sweet YA I definitely recommend this one.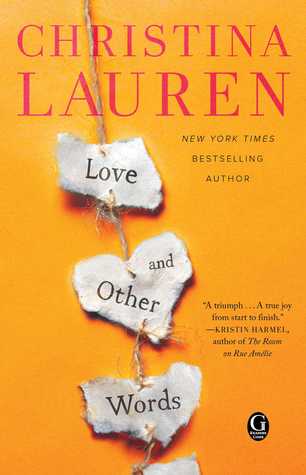 Love and Other Words by Christina Lauren. Read May 14-15. 4 Stars. 
I did really like this, but I also really had some issues with it. I was rooting for Macy and Elliot, but I felt the further we got into the book the less impressed I was with their relationship. When it starts out we just keep being told how they were each other's first/best "everything" and they were so close and special and then something awful happened where they didn't speak for eleven years. Every other chapter is told in flashback to when they first met until the big event that drove them apart. As they grew older in the flashbacks, their conversations primarily seemed to revolve around sexual topics and while they're young and hormonal and I get that, it felt like it was at the expense of finding out real things about each other. Macy realized on several different occasions that their relationship is very insulated and she knows very little about Elliot's outside life. While I didn't doubt that they cared about each other, I just never really bought their relationship being as real and close as we're told it was.
I also thought it got way too long to get to what happened. I pretty much guessed what happened within the first chapter or two and it was kind of annoying that they waited roughly 400 pages to reveal it. And while I'm sure it was a traumatic time for Macy, it also felt like a big overreaction that didn't warrant eleven years of the silent treatment.
Ok, so I know it sounds like I didn't like this, but I did. I liked the Present chapters a lot more than I liked the flashbacks. Even though Macy still frustrated me, I did like adult Macy and Elliot together. I liked adult Elliot a lot more than teenage Elliot. The writing was very addictive and once I started this book I only put it down for sleep and work. I did think the first half was better than the second half, though. However, it's still a book that I think I would read again.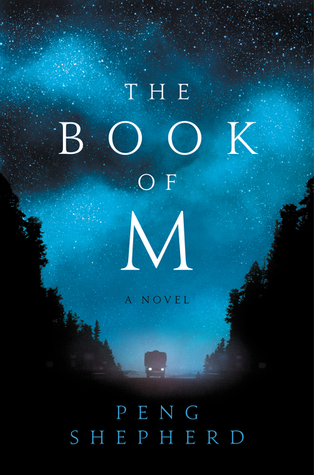 The Book of M by Peng Shepherd. Read May 13-19. 3 Stars. 
The Book of M is certainly an ambitious debut. Covering multiple characters, countries, and time in painstaking detail, it explores a new dystopian world where the loss of memories results in dangerous magic. Full Review to come.
Tell Me Lies by Carola Lovering. Read May 19-20. 4 Stars. 
Tell Me Lies is an addicting tale of a toxic relationship and the dysfunctional people involved in it. Full review to come.
A Gathering of Secrets (Kate Burkholder #10) by Linda Castillo. Read May 21-22. 4 Stars.
Sometimes when a series has been around for awhile, the characters and the stories seem to get a little stale. That is not the case with the Kate Burkholder series. We are ten books in and I still enjoy it just as much as I did the beginning of the series. Full review to come.
Find You in the Dark by Nathan Ripley. Read May 23-26. 2.5 Stars. 
Comparisons to Dexter and to Joe made me pretty excited to read Find You in the Dark, but as with such other comparisons, I was left a little disappointed. Full review to come.
A Court of Frost and Starlight (A Court of Thorns and Roses #3.1) by Sarah J. Maas. Read May 26-27. 2.5 Stars.
Well. That was kind of pointless. You know there are groups of characters that you say you would read about them doing ANYTHING? The ACOTAR group has never been that for me, but if they are that for you, you'll enjoy this. Like all other Maas books it was weighed down with too much pointless detail and very little plot. It was occasionally funny, though, and I will always have a certain level of love for Rhys. I'm not really feeling that inspired to continue the series, but I probably will.
********Back on the TBR********
Children of Blood and Bone by Tomi Adeyemi. I finally got this from the library, but I just was not in the mood for fantasy at the time. I will try it again some day.
********DNF********
Attempting Elizabeth by Jessica Grey. DNF-ed at 58%. I almost never DNF a book this far into it, but I just really couldn't make myself care about it. The concept is interesting, but I don't think it was executed that well. And the main character was really annoying. I put it down for a few days to read something else and was not at all interested in picking it back up again.
Jane and Austen by Stephanie Fowers. DNF-ed at 9%. I really liked the concept of this and that it has characters based off of all of Jane Austen's books, but I just couldn't get into it.