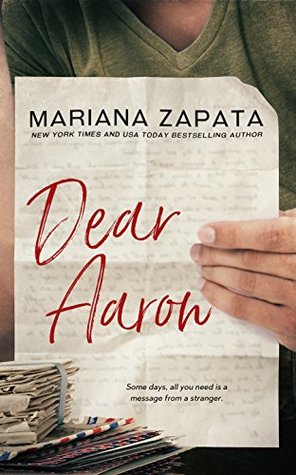 Synopsis from Good Reads:
Ruby Santos knew exactly what she was getting herself into when she signed up to write a soldier overseas.

The guidelines were simple: one letter or email a week for the length of his or her deployment. Care packages were optional.

Been there, done that. She thought she knew what to expect.

What she didn't count on was falling in love with the guy.
What I Liked
*This book gave me ALL THE FEELS. It has been quite awhile since a book made my little black heart feel like this. I just loved all the sweet scenes between Ruby and Aaron. For a good portion of the book I didn't always understand why they fell for each other like they did, but once they got to interact in person I definitely believed it and was 100% Team Ruron.
*I've always been a fan of non-traditional formatting and the use of e-mails/texts/IMs. The first 40% or so is told that way and I was beginning to think that it was maybe a little too much when it changed instead to Ruby's POV. It was actually a little jarring and first and I started to miss the texts and IMs when it changed again. While it did go back to primarily normal narrative style in the latter half, it still had some of the texts and I felt it was balanced well.
*The Slooooow burn. I've read one other book by this author – who is known for her slow burn romance – and thought people kind of confused slow paced for slow burn. This one, though, while not at all fast paced, did not feel like a slow story. With the way the story was told in the first half there was no room for the extraneous text that can bog a story down. It was all character development and relationship building and banter.
What I Didn't Like
*Where the first half or so of the book had a steady pace, once it switched away from the e-mails/texts/IMs I felt it was a little repetitive. I felt like Ruby would kind of spiral and she would just repeat the same things over and over again and it really started to get on my nerves. I think that Zapata could edit things down just a bit and it would still have all the emotional impact with a few (hundred) less pages.
*If this book had a soundtrack, then "Gorgeous" by Taylor Swift would play on repeat. Ruby spent SO. MUCH. TIME. thinking about how beautiful Aaron was and how she had trouble looking at him, etc., etc. It got old really fast.
*While I liked Ruby, I found her kind of annoying. She was very sensitive and cried pretty much all the time. She also came across really immature a good amount of the time.
*I didn't like how Aaron was so insistent that Ruby shouldn't get a full time job just because it wasn't something she would love. I appreciate the fact that he wanted to encourage her to follow her dreams and do what would make her happy, but it just feels so impractical to not have steady income. She could've gotten a job and still done her business on the side until she figured things out.
Overall
Overall, I did really enjoy Dear Aaron. Though there were obviously some things I took issue with, there were many funny moments and some great character development, and I totally shipped the romance. Aaron was just so, so sweet with Ruby and I couldn't get enough of it. I'm looking forward to reading some more by this author.
Overall Rating (out of 5): 4 Stars