I read a lot of books that I don't end up reviewing for whatever reason. Some because I wasn't impressed. Some because I didn't have the time. Some I just wasn't feeling it on whatever particular day I finished. I thought I'd start doing a post once a month  with just the couple thoughts I shared on Good Reads.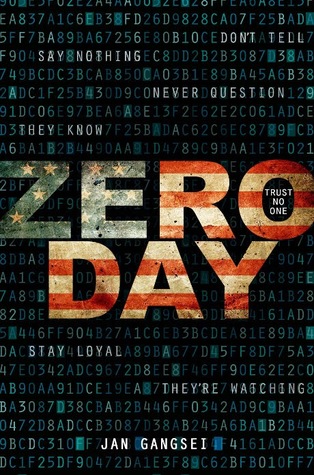 Zero Day by Jan Gangsei. Read June 28-July 1. 2 stars.
This book was full of interesting ideas that were never really fully developed. It left a lot of loose ends open – so much so I thought it was series, but according to the author it's a standalone "with potential for more." Which honestly just makes the lame cliffhanger even more frustrating. I think the book would have been better if it focused on less perspectives and cut out a couple of the extraneous storylines and just really focused in on Addie and Cerberus.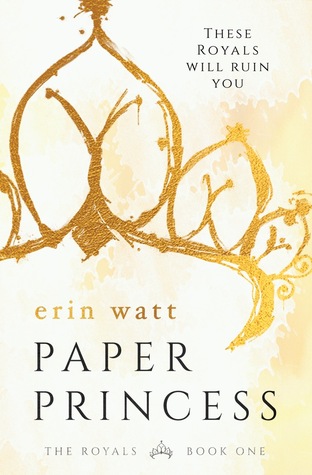 Paper Princess (The Royals #1) by Erin Watt. Read July 1. 3 Stars.
Um, this is supposed to be YA? It definitely reads way more adult, even though the main characters are in high school. I've been seeing such great reviews for this book that I finally decided I had to read it, even though I knew it wasn't the type of book I usually go for. And it's definitely not the kind of book I generally like, but once I started it, I couldn't stop. It was a very quick, easy read with interesting, if often clichéd, characters. I hated them half the time and rooted for them the other half. I definitely wouldn't recommend this to YA readers, even though it's supposed to be YA, but I think usual Romance readers will like it.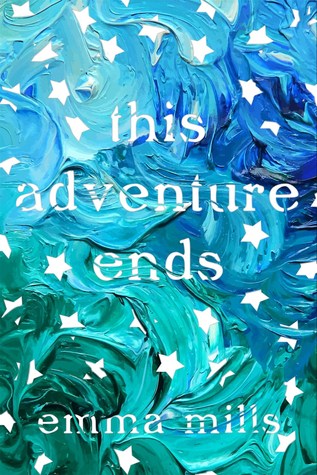 This Adventure Ends by Emma Mills. Read July 4. 4.5 Stars
I loved this book so hard! I read it basically in one sitting. The characters, the family, the friendships, the humor, the emotion. This book just made my heart happy. I think Emma Mills has made her way onto my auto-buy list. Full review to come closer to release date.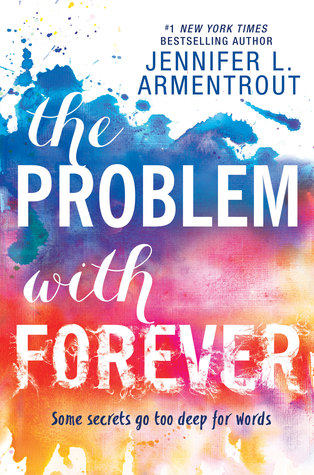 The Problem with Forever by Jennifer L. Armentrout. Read July 2-4. 3 stars.
I think this book tried too hard to teach me something and in doing so came off a little cheesy. I liked the main characters and I liked the romance enough – even though there was an "Anna and the French Kiss" inspired love triangle that took WAY too long to be resolved. In some ways I could really identify with Mallory, but there was just something missing where I didn't feel at all connected with her. There were definitely some sad moments, but I didn't feel that much about them either. Not a bad book, but kind of a disappointment, given my love for JLA.
Among the Wicked (Kate Burkholder #8) by Linda Castillo. Read July 12-16. 4 Stars.
This is the eighth book in the Kate Burkholder series and I think it's my new favorite. I really liked the story – the undercover aspect and how genuinely creepy some of the characters were. There was a surprise towards the end that I definitely didn't see coming. I was a little concerned about Kate being in a different state and not having the usual cast of characters around, especially Tomasetti, but it worked. And while I am always wanting more Tomasetti, he still had a presence in the book. I wish there was just a bit more interaction with Bishop Schrock since he was such an interesting, creepy character. Overall, though, a very good read.
Shuffle, Repeat by Jen Klein. Read July 17. 3.5 stars.
There was a great deal of cuteness in this book, but there were several things that kind of annoyed me, too. Lately I seem to be reading a lot of books where the main characters hide behind sarcasm and a generally bad attitude to avoid having feelings about things. And while I completely and totally relate to that, it's made me start to wonder how annoying other people must find me. I mean, about 99% of the drama June goes through in this book is manufactured by herself. I felt like a lot of it could have been avoided. But, overall, while I did have some issues with this book, it did have so many cute moments. I loved, loved Oliver and I really liked June's friendship/relationship with him (when she wasn't screwing everything up). A cute, fast read that I think a lot of YA lovers will enjoy.
Best of My Love (Fool's Gold #20) by Susan Mallery. Read July 16-17. 3.5 Stars.
I was a little iffy about this in the beginning. The premise that you need to set up some "experiment" to be friends with a member of the opposite sex was kind of silly to me. I also thought setting up a time limit for that friendship was odd. But once I got past that, I did really end up liking the relationship between Aiden and Shelby. I wish there would have been a little more Just Friends time before they started to fall for each other, though. However, I did really like that they became such good friends and I shipped them hard. The message of opening yourself up to love got a little heavy handed towards the end and a part of me wish they would have only been just friends. It kind of took away from the point that men and women can be just friends by having them fall in love. But, I guess you can't really expect anything else to happen in this type of book. And I did really like their relationship. Overall, it was a cute, quick read that fans of romance and the Friends to Lovers trope would enjoy.
Lady Midnight (The Dark Artifices #1) by Cassandra Clare, Read July 18-22. 3 Stars.
This book was ridiculously too long. It could have been a couple hundred pages shorter and if it was I think it would've been much better. It was still a solid 3-star book, but I do have to admit I got bored for long stretches of it.
I liked pretty much all the characters. I liked that one of them is on the Spectrum and how he was written. I was a big fan of the romance, but found the ending regarding it completely annoying (though not as annoying as supposed incest like in some of other Clare's books…). Julian was my favorite. It was often repeated that he kept a lot of secrets, but I thought they were completely obvious. When he pulls Mark and Emma aside to tell them about one of the secrets, I was expecting something really shocking, but what he told them was something I thought we already knew? And did Emma really not figure it out before that?
While the book was almost completely predictable, I was surprised by who the Guardian was, so that was a good twist, even though it made me sad. I think the rabid Clare fans will really enjoy this book and the cameos from characters from the other series. For me, it was kind of average, but I'll still plan on reading the next book in the series.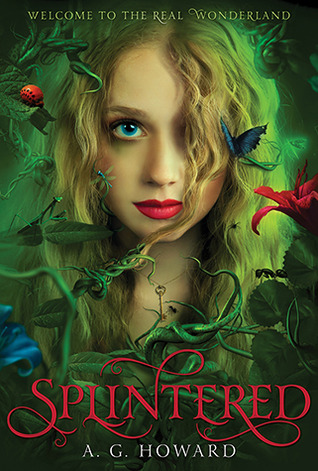 Splintered (Splintered #1) by A.G. Howard. Read July 23-24. 3 Stars.
I've had this on my TBR shelf forever (mostly because I adore the covers for the books in this series) and when nothing else was keeping my attention, I decided it was finally time to try it. I think I *wanted* to like it a little more than I actually liked it. I liked the premise and for the most part I liked Alyssa. I liked Jeb to an extent, but his super-protectiveness often veered into controlling, which is not cool. Morpheus had SO MUCH potential to be this really awesome character, but he fell a little flat for me. Though there were several chapters I kind of skimmed, I did overall like the book enough to continue the series.
The Moth in the Mirror (Splintered #1.5) by A.G. Howard. Read July 24. 3 Stars.
I liked the idea of getting to see some of Jeb's POV from the first book, while getting new scenes with Morpheus. Unfortunately, most of Jeb's scenes were him finding things out we already knew, with little insight into anything else. I did like the scenes with Morpheus, though. I have high hopes that he'll live up to his potential in the next book.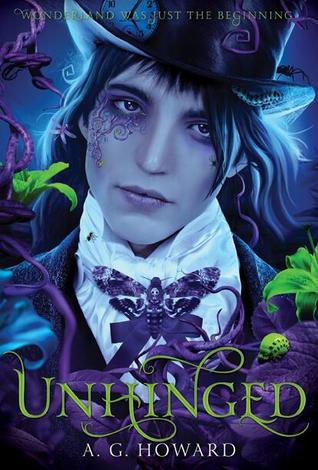 Unhinged (Splintered #2) by A.G. Howard. Read July 24-26. 3 Stars.
There was a bunch of nothing happening for most of the book and it would have benefited from being shorter. However, there were some good things that happened, too. I liked Morpheus a lot more in this installment, though I still don't LOVE him yet (but I'm definitely not Team Jeb, either). I'm glad that we got to find out more about his and Ally's mom's past. I liked where things ended and am looking forward to the next book.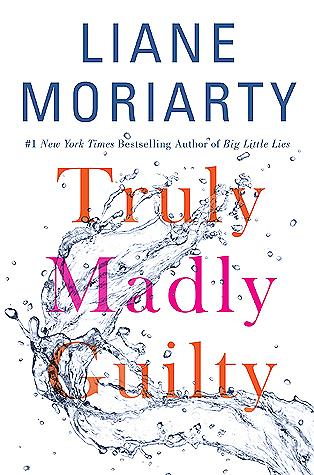 Truly Madly Guilty by Liane Moriarty. Read July 26-29. 3 Stars.
Once again Moriarty writes some amazingly well-developed characters. While they weren't always likeable (in fact they were almost all unlikable a good deal of the time), they did really start to feel like people I knew and cared about. Poor, sweet Oliver was my favorite.
While the character development was spot on, the story, unfortunately, underwhelmed me. It took over half way through the book to find out what the big incident at the barbecue was and it wasn't as shocking as I thought it was going to be. I felt myself just wanting to kind of get through it, instead of enjoying it or being entertained by it. So while it definitely wasn't my favorite Moriarty book, I think fans of really character-driven stories would enjoy it.
*************************************************************************
BACK ON THE TBR
Blitzing Emily (Love and Football #1) by Julie Brannagh. I got a copy of this for free awhile ago and we all know how much I love fake relationship stories. But this one just wasn't keeping my interest. I do plan on trying it again sometime, though.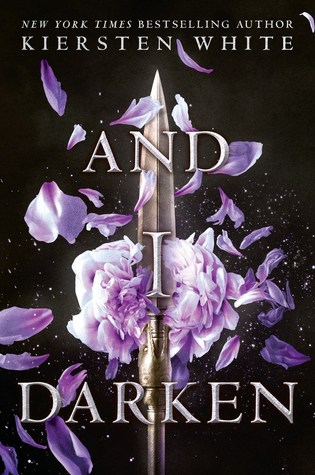 And I Darken by Kiersten White. I was really looking forward to his book since I love some of White's other books, but it just didn't really keep my attention. I'm not sure it's my type of book, to be honest. However, it might have just been my mood and I will definitely try it again someday.
*************************************************************************
DNF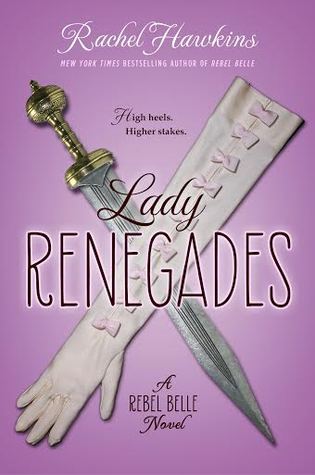 Lady Renegades (Rebel Belle #3) by Rachel Hawkins. I just could not get into this book. After reading some reviews I decided it didn't look like it was going to be something that would suddenly catch my interest. I ended up skipping ahead and reading the last couple chapters and I'm glad with my decision to not continue reading.
Smash & Grab by Amy Christine Parker. DNF at about 44%. Since I got this from NetGalley, I really wanted to finish it, but I just couldn't take any more. The characters are completely unlikable, the plot is unbelievable. While Christian is slightly more likable than Lexi, his POV included basically caricatures of Mexican culture and was honestly a little offensive and uncomfortable to read sometimes. I think heist books need to have a certain level of Fun, but I was completely unentertained. I just felt sad for the characters.