I read a lot of books that I don't end up reviewing for whatever reason. Some because I wasn't impressed. Some because I didn't have the time. Some I just wasn't feeling it on whatever particular day I finished. Reviewing the Unreviewed is my monthly post where I share my few thoughts on all the books I didn't formally review.
The Supervillain and Me (Morriston Superheroes #1) by Danielle Banas. Read November 3-5. 3 Stars.
I wasn't terribly impressed by this one. I thought the story was a little too drawn out. Very little happened until the last couple chapters. The characters were ok. I thought the mystery of the Iron Phantom's identity should have been wrapped up sooner. It was written to make you think it was so obviously one person that you knew it couldn't be that person, so it obviously had to be the other person. And it just took way too long to reveal it. It looks like this is supposed to be a series, but I don't know if I'm interested enough to pick up the next book when it comes out.
The 100 (The 100 #1) by Kass Morgan. Read November 6-8. 3 Stars. 
I kind of just want to write a long, drawn-out list of all the ways this book and the tv show are different. I feel like a bad bookworm for mostly preferring the show. However, if I read this first I might feel differently. But maybe not, because the book really wasn't anything special. I thought Glass was a completely useless character that could have been eliminated. I understand that she was there to still have a connection to the ship, but honestly I just didn't care. Let's be real, though, the reason I read this and will continue to read this series is for some Bellarke shipping that won't end in frustration.
The Faithful: Heroes of the Old Testament by Priscilla Shirer, Kelly Minter, Beth Moore, Jennifer Rothschild, and Lisa Harper. Read October 11 – November 13. 4 Stars. 
This was a different type of devotional than I've done before. It's a 5 week study and each week is from a different person, on a different topic. There is also a video for each week. Each session comes from a more detailed Bible study and sometimes it felt like this was put together just to sell more books. However, there were some really great sessions and lessons that I really needed to hear. Jennifer Rothschild on Hosea and Beth Moore on Esther were my favorites and I will definitely be looking into more from them.
Marriage of Inconvenience (Knitting in the City #7) by Penny Reid. Read November 16-18. 3 Stars. 
I think I would've enjoyed this a little more if I read the previous books in the series. Though this is one of those series where each book can be read as a standalone, it involves characters from the previous books and they all got a lot of page time. I had a hard time keeping them all straight and other than one or two I didn't really care about them. I thought the whole marriage of convenience plotline was a little far fetched. We also didn't get a lot of the cute fake relationship aspects I was expecting. They basically tell their friends the whole story whenever someone asks and everyone else just goes with it right away. The relationship also became real very fast. The book was about 200 pages longer than it needed be. I thought Dan could be pretty crass at times so I never really fell in love with him. However, there were some cute, romantic moments and there were also several humorous moments. I'm giving this an extra star just because I was invested enough to finish it.
*****Book with Future Reviews Scheduled*****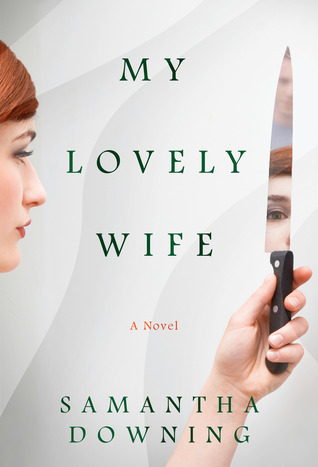 My Lovely Wife by Samantha Downing – 4 Stars
The Hiding Place by C.J. Tudor – 3 Stars
For Better and Worse by Margot Hunt – 2 Stars
I Owe You One by Sophie Kinsella – 4 Stars
Lovestruck by Kate Watson – 3 Stars