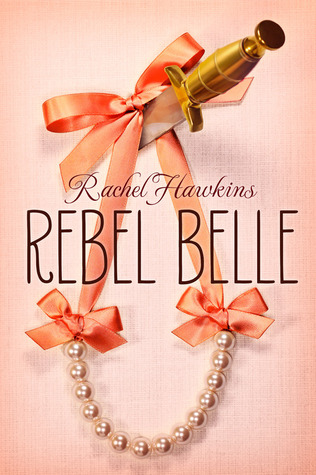 Synopsis from Good Reads:
Harper Price, peerless Southern belle, was born ready for a Homecoming tiara. But after a strange run-in at the dance imbues her with incredible abilities, Harper's destiny takes a turn for the seriously weird. She becomes a Paladin, one of an ancient line of guardians with agility, super strength and lethal fighting instincts.

Just when life can't get any more disastrously crazy, Harper finds out who she's charged to protect: David Stark, school reporter, subject of a mysterious prophecy and possibly Harper's least favorite person. But things get complicated when Harper starts falling for him—and discovers that David's own fate could very well be to destroy Earth.

With snappy banter, cotillion dresses, non-stop action and a touch of magic, this new young adult series from bestseller Rachel Hawkins is going to make y'all beg for more.
This was a weirder book than I was anticipating. While it had had some cute and funny moments, it was pretty odd.
Harper is the stereotypical queen bee at her school, except she's not a mean girl. While we're meant to believe that she's an active over-achiever and good girl to make up for her older sister's fall from grace (an even that is alluded to a few times before we finally find out what happens and then is never really explored further), for the most part I found her pretty vapid and shallow. She was often commenting on how pretty she was and all of problems started because she didn't have lip gloss on. Really?
Then all of a sudden the school janitor dies and bestows upon her "superhero powers" and she's just fine with it. It takes like a chapter for  her to come to terms with it. Later when she finds out she's to protect David and David finds out about her powers – and his own – he takes a couple minutes to process it and then he just accepts it. It's not like I want to read endless chapters of self-denial, but I felt like it should've taken them a little more time to get on board with things so crazy.
There wasn't really a whole lot that went on in the middle of the book. David's Aunt Saylor helps train Harper, which doesn't seem to be really necessary since Harper's abilities manifested instantly. There's a lot of Harper feeling bad about lying to her friends and having problems with her boyfriend and a lot of awkward sexual tension growing between her and David. However, the end got a little more action-y and the love triangle seemed to get resolved – for awhile at least.
While I didn't always like Harper, I liked the banter between her and David, which provided much of the humor in the book. And even though I know it's going to provide a lot of unnecessary melodrama in the next book, I liked the twist in the end. Overall, this book was a little odd, but was cute and an easy read. I would recommend to people looking for a light read, who enjoy YA fantasy/contemporary.
Rating (out of 5):
Plot: 3
Characters: 3
Readability: 3.5
Enjoyability: 3.5
Overall Rating: 3.25 stars