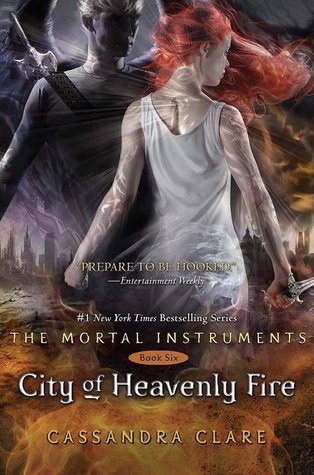 Synopsis from Good Reads:
ΕRCHOMAI, SEBASTIAN HAD SAID.

I am coming.

Darkness returns to the Shadowhunter world. As their society falls apart around them, Clary, Jace, Simon and their friends must band together to fight the greatest evil the Nephilim have ever faced: Clary's own brother. Nothing in the world can defeat him — must they journey to another world to find the chance?
I've been a firm believer that this series should have ended after the third book (City of Glass). Books four and five were mostly awful and made me not as excited to read this last book. However, I was really pleasantly surprised with how well City of Heavenly Fire wrapped things up. I felt like relationships and friendships were solidified and the big threats were dealt with conclusively.
However, that's not to say that the book was perfect. I have about three major problems with it.
1. Too many POVs. There are a lot of characters in this series. A lot. While I don't have a problem necessarily with that or with using multiple POVs, there were just too many in this book. It seemed like almost every character got some time, instead of focusing on the big three: Clary, Jace, and Simon. I felt like there was not enough time spent with the characters that mattered to me and the transitions between POVs and scenes were not well done.
2. Using a "finale" as a "back-door pilot". I'm still bitter over Richelle Mead's treatment of Adrian in the final Vampire Academy book, just to set up his (much better) spin-off series, Bloodlines. While Clare doesn't mistreat any of our main characters in that fashion, she introduces – and gives a significant amount of time – to the characters of her new Dark Artifices series. While I've enjoyed the series, I'm not a huge Shadow-Hunter world fanatic and I don't really care about the spin-off. I might read it. I might now. What bothered me is the time dedicated to setting that up, detracting from the original story.
3. References to other series/books. I have not read The Infernal Devices series yet. I've always planned on it, but haven't gotten around to it yet. So when some of the characters from that series show up, I felt like I was missing important plot points in this book and I've also been spoiled for how the Infernal Devices series will end. There were also multiple references to Magnus' past that I assume were explained in his spin-off book. If I had read these other books, I probably would've loved the incorporation, but since I haven't yet, I found it really disappointing.
I don't know what else to say about this book without spoilers. I remembered why Simon was my favorite character in the whole series and have mixed emotions with how the story played out for him, but ultimately I think I'm happy with it. I think that fans of the series will enjoy this book, especially if they read the other series. If you haven't yet ventured into the Shadow Hunter world, I would recommend you start with The Infernal Devices series first, like I should've.
Rating (out of 5):
Plot: 3
Characters: 3
Readability: 3.5
Enjoyability: 3.5
Overall Average: 3.25 Stars