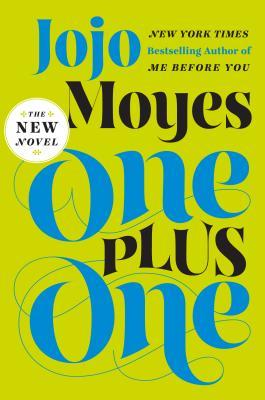 Synopsis from Good Reads:
One single mom. One chaotic family. One quirky stranger. One irresistible love story from the New York Times bestselling author of Me Before You

Suppose your life sucks. A lot. Your husband has done a vanishing act, your teenage stepson is being bullied and your math whiz daughter has a once-in-a-lifetime opportunity that you can't afford to pay for. That's Jess's life in a nutshell—until an unexpected knight-in-shining-armor offers to rescue them. Only Jess's knight turns out to be Geeky Ed, the obnoxious tech millionaire whose vacation home she happens to clean. But Ed has big problems of his own, and driving the dysfunctional family to the Math Olympiad feels like his first unselfish act in ages . . . maybe ever.
I loved this book! I just loved it. Jojo Moyes has become one of my Must-Read authors and she did definitely not disappoint with One Plus One.
Jess is a young single mother, working multiple jobs to just barely pay the bills. Despite all the hardships in her life, she does the best to always look on the bright side of things and is determined that things will all work out. Ed is a rich software developer with poor relationship skills that has led to him being investigated for insider trading. When their paths cross while Jess is at her lowest point, Ed uncharacteristically offers himself as the solution. Thus starts a multi-day road trip with Jess's two very different children to get to a math Olympiad that could change their lives forever.
I'm a huge fan of character driven novels and Moyes really excels at that. All the characters in this book were well developed and grew leaps and bounds throughout. Though told in 3rd person POV, each chapter is dedicated to one of the characters' perspective – Ed, Jess, Nicky, or Tanzie. I honestly loved all of them. Though I got sometimes frustrated with Jess or Ed, I really found them all to be likable characters that you can't help rooting for.
I loved the way Jess and Ed's relationship developed and how the romance is subtle and almost takes a backseat to the rest of the story. I loved watching Nicky come out of his shell and start to accept himself for who he is. I really loved Tanzie, how wise beyond her years she is, but also still very much a ten year-old girl. And I also loved Norman, their big, lazy, loyal dog.
Overall, I really enjoyed this book. This little review does not do it justice. I would definitely recommend One Plus One to fans of Moyes and character-driven books. Though I got this at the library, I liked it so much that I think I'll end up buying a copy to keep.
Rating (out of 5):
Plot: 3.5
Characters: 4.5
Readability: 4
Enjoyability: 4.5
Overall Rating: 4.125 stars