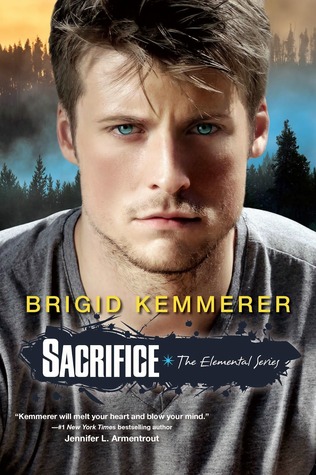 I received a copy of this title from NetGalley. It does not impact my review.
Synopsis from Good Reads:
One misstep and they lose it all. For the last time.

Michael Merrick is used to pressure.

He's the only parent his three brothers have had for years. His power to control Earth could kill someone if he miscalculates. Now an Elemental Guide has it out for his family, and he's all that stands in the way.

His girlfriend, Hannah, gets that. She's got a kid of her own, and a job as a firefighter that could end her life without a moment's notice.

But there are people who have had enough of Michael's defiance, his family's "bad luck." Before he knows it, Michael's enemies have turned into the Merricks' enemies, and they're armed for war.

They're not interested in surrender. But Michael isn't the white flag type anyway. There will be blood on the ground tonight…
My Reviews of other books in this series:
"There will be blood on the ground tonight…" That is a little over dramatic, maybe a little cheesy, but I LOVE it. I can't help it. It really sets the tone for the book. Kemmerer isn't kidding around here. It's not Secret with all character development and barely any plot movement. There is action propelling the story every page of the way.
That's not to say there isn't character development. Sacrifice finally gives us Michal's POV. Michael has always been my favorite Merrick brother and this book just reinforces my love for him. He manages to be steady and strong and loving even though he's also confused and terrified much of the time.
We also get his girlfriend Hannah's POV. I liked her enough in previous books, but she didn't really endear herself to me in this one. For much of the book she acts very childish towards her father, despite the fact that she has a child of her own. I also didn't care for the way she acted when Michael hadn't yet told her he was an Elemental because he was trying to protect her. While she has many good qualities, her childishness and pettiness is what stuck with me the most.
Since the first book, the problem that has centered around the Merrick family is that they are pure Elementals that the Guides want to take out since they have the potential for so much destruction. While they've faced a couple throughout the books, they come after the Merricks, Hunter, and Tyler in full force in this book. There's multiple fires and bombings. There's destruction and death. And at the center of it all is Michael. The Fire Marshall, who also happens to be Hannah's father, suspects Michael is the perpetrator and not the victim and one of Michael's greatest fears regarding his brothers come to fruition.
The plot is fast paced and pretty action filled, though there was still time for some character development for Michael and Hannah. I liked that Tyler and Michael got to work together on almost friendly terms. There were, however, LOTS of things that were left open. They are all spoilery things so if you haven't read the book yet, you can skip over this part and just scroll to the end for the final rating.
SPOILERS, SPOILERS, SPOILERS!
-Where the heck is Becca!?! She was always my favorite of all the Merrick Girlfriends and she is not in the book AT ALL. Tyler mentions once that Quinn is staying with Becca and Becca's dad is keeping them under lock and key until everything is settled. Yeah, that's nice, but that's a major character to leave out of the final book! I never liked Quinn, so I don't care that she's not around, but some readers might object to it.
-Hunter and Chris are at each other's throats the whole time. Is this just residual anger left over from the Becca triangle? It seemed like there should have been more to it. It seemed like there was A LOT more going on with Chris that we never find out about.
-Hunter dies!!!!!!!!!!!!! Hunter was never my favorite, sometimes I downright disliked him, but I was not prepared for him to die! And then there was the whole thing with his uncle being alive. He talked about "coming back from the dead" and while I figured it meant metaphorically since everyone thought he was dead, was he able to actually come back from the dead? Can Spirit users do that? Could Hunter come back?
-The book ended so abruptly! Part of that is probably because of the sneaky ARC that I had – My Nook told me it was 432 pages and it ended on page 282. (The rest were the novellas from the series.) I had not mentally or emotionally prepared myself for the end! Plus, Michael doesn't have custody back yet of his brothers! His landscaping business files are still missing. A new Elemental character is introduced that used to be a Guide and let's Michael know there are people who want things to change, but there's still a GIANT threat out there that hasn't been dealt with. How can this possibly be the last book!?
SPOILER OVER * SPOILER OVER * SPOILER OVER
Overall, I did really like this book. I enjoyed it right up until the last page when I realized it was over. While some things were satisfying, I felt like it left things way too open to be an actual series finale. There has to be another book, right? Please Kemmerer!
Rating (out of 5):
Plot: 3.5
Characters: 4
Readability: 4
Enjoyability: 4
Overall Rating: 3.875 Stars