I read a lot of books that I don't end up reviewing for whatever reason. Some because I wasn't impressed. Some because I didn't have the time. Some I just wasn't feeling it on whatever particular day I finished. I thought I'd start doing a post once a month with just the couple thoughts I shared on Good Reads.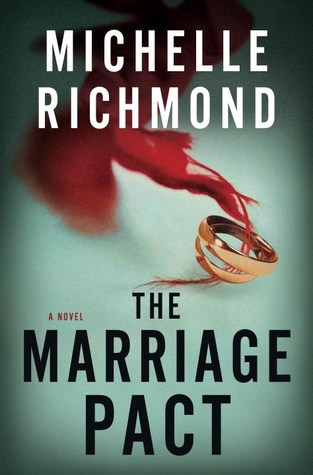 The Marriage Pact by Michelle Richmond. Read April 1-2. 4 Stars.
I really enjoyed The Marriage Pact. Though it started out a little slow for me and did get bogged down in the details a bit, for the most part it was well-paced and seriously creepy. I had fallen into a book slump before I started this and it definitely pulled me out. This is my first Michelle Richmond book and I'll definitely be reading more from her. Full review to come.
I Let You Go by Clare Mackintosh. Read April 8-10. 3 Stars.
After all the glowing reviews and everyone saying this book was better than Mackintosh's I See You (which I read first and really enjoyed), I had very high expectations going into this. Unfortunately, they weren't quite met. Part One of this book was sooooo slow. If it wasn't for all the good reviews, I may have given up on it. I didn't really care for Jenna's POV until closer to the end of Part One and while I liked Ray's POV, he started to really make me angry. However, it definitely got more interesting in Part Two. I liked the reveal right before Part Two. I knew a twist was coming and I had a few guesses and one of my them was about half right. I knew there was another twist coming and I did figure it out before the reveal, but that's ok. Overall this was a good book, but it did not live up to my expectations.
Marrying His Best Friend (The McKinnon Brothers #3) by Jennifer Gracen. Read April 9-11. 3 Stars.
A very cute Friends-to-More/Marriage of Convenience story. I loved, loved Aiden. He was so sweet. This was well on it's way to being a 4 star read for me, but then Maura started acting like an idiot and I couldn't stand her for awhile so it definitely brought my overall feelings about the book down. It was still, cute, though. This was a free Nookbook (and is probably on Kindle too?) and I'm glad I actually read it instead of letting it sit for years untouched on my Nook, like most other free downloads do.
The Girlfriend Request by Jodie Andrefski. Read April 13-14. 3 Stars.
I reject the premise of this book. Emma basically decides to catfish Eli with the end goal being Eli asking her out. Ummm, ok. There was also a kind of random love triangle thrown in towards the end of the book that was kind of pointless. All of Eli and Emma's friends existed for the sole purpose of advancing the Eli/Emma relationship. Despite all those problems, though, there were still several cute moments and I did like Emma and Eli together once they stopped being stupid. I liked their friendship, as well. I appreciated that this was a pretty clean YA Contemporary. Overall, this was a quick, easy read that provided the distraction I was looking for.
Driven to Date (Better Date than Never #7) by Susan Hatler. Read April 15. 3 Stars.
I've had this book on my Nook forever and finally decided to read it today when nothing else was working for me. It was a workplace romance with a bit of a mix of fake-relationship, insta-love, and enemies-to-lovers. It was short and sweet with likable characters and I'll be reading some of the other books from this series that have also been sitting on my Nook for awhile.
Letters to the Lost by Brigid Kemmerer. Read April 16-17. 3.5 Stars.
It took me a little while to get into this. I didn't really care for either Juliet or Declan in the beginning. I'm an avoidant people pleaser, so I can't really relate to angry, confrontational characters. However, as the story went on I became more invested in the characters and the story. The chapters alternate between Declan and Juliet's POVs and I have to say that I enjoyed Declan's chapters a lot more. While I liked the relationship between Declan and Juliet, it was the friendship between Declan and Rev that really made this book for me. I loved their interactions and how supportive of each other they were. I also really liked Frank, Declan's "supervisor", and a couple of the teachers. This was not as emotional as I was expecting it to be (that isn't really a bad thing, though). Overall, a good book, but not my favorite of Kemmerer's.
The Thousand Dollar Tan Line (Veronica Mars #1) by Rob Thomas & Jennifer Graham. Listened to April 19-24. 4 Stars.
I listened to this on audio and even though the book would be good on it's own, Kristen Bell's narration just made it amazing. I loved the show and listening to this book was almost like watching an episode. I thought the mystery was well done and it definitely kept me guessing. A must-read (or listen) for all Veronica Mars fans.
Arrowood by Laura McHugh. Read April 25-27. 2.5 Stars.
I feel a little bad for rating this under 3 stars because the writing wasn't bad (though much too descriptive for me), but when I finished the book my first thought was, "That was a waste of time." The chapters were long and the pace was slow and it took well over half way through for me to really get interested in the story. The solution to the mystery wasn't really a surprise at all and I thought the reveal wasn't very well done. The characters could have used a little more development, but I didn't mind Arden and I liked Josh. If you're really into description and some light history you would probably enjoy this more than I did, but if you're looking for a good mystery or suspense I would say to look somewhere else.
****************RE-READ****************
Breaking Silence (Kate Burkholder #3) by Linda Castillo. I listened to most of this on audio on the drive home from vacation and I couldn't remember all the details of the conclusion, so I had to read the rest as soon as I could. This was a good mystery. I really like this series.
****************BACK ON THE TBR****************
Nemesis by Brendan Reichs. I got almost half way through this and just don't care about it. It might just be my mood, though, so I'm putting it back on the TBR to read another day.
****************DNF****************
The Seven Husbands of Evelyn Hugo by Taylor Jenkins Reid. DNF at 38%. When I first saw this book I didn't think it looked like my cup of tea. But then I saw it was Taylor Jenkins Reid and I thought, "yes, please." Sadly, I should've gone with my first instinct. I pretty much hated Evelyn – both in the present and the past. I felt a little sorry for her as a young girl, but then she grew up into an awful person who did awful things and was not the least bit sorry about it. Now, I can read and enjoy books that have unlikable characters. But I either have to love to hate them or they have to have some type of redeeming quality and I felt like both of those aspects were missing here. I also didn't really find Monique developed enough to care about one way or the other, but by the time I stopped reading I was growing to dislike her a bit. I'm sure there will be many people who like this book, but unfortunately I'm not one of them.
The Replacement Crush by Lisa Brown Roberts. DNF at 12%. I have absolutely no patience whatsoever for Vivian.