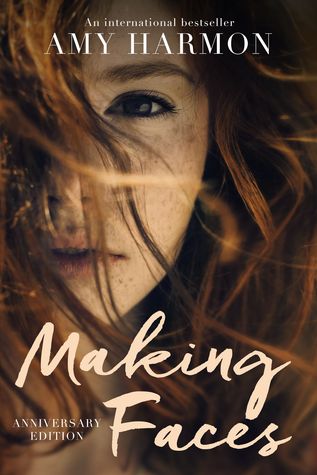 Synopsis from Good Reads:
Ambrose Young was beautiful. He was tall and muscular, with hair that touched his shoulders and eyes that burned right through you. The kind of beautiful that graced the covers of romance novels, and Fern Taylor would know. She'd been reading them since she was thirteen. But maybe because he was so beautiful he was never someone Fern thought she could have…until he wasn't beautiful anymore.

Making Faces is the story of a small town where five young men go off to war, and only one comes back. It is the story of loss. Collective loss, individual loss, loss of beauty, loss of life, loss of identity. It is the tale of one girl's love for a broken boy, and a wounded warrior's love for an unremarkable girl. This is a story of friendship that overcomes heartache, heroism that defies the common definitions, and a modern tale of Beauty and the Beast where we discover that there is little beauty and a little beast in all of us.
I received a copy of this title from NetGalley. It does not impact my review.
The paperback edition with be available 2/21/17.
I don't really know what I was expected from Making Faces, but the emotional tornado I lived through while reading it definitely wasn't it. This book is incredibly heartbreaking. But, it is also incredibly hopeful. Incredibly beautiful.
I found so much of this book really relatable. Like the characters, I was a senior in high school when the 9/11 terrorist attacks happened. I remember sitting in Physics class watching as one of the towers collapsed. I also really related to Fern's awkwardness and insecurity issues. And how, as a child of a pastor, you know that when the phone rings at an odd hour something bad has happened.
I think my very favorite thing about this book is that it positively portrayed Christian characters and the Christian faith. So often in mainstream fiction Christian characters are portrayed as wackos or extreme hypocrites. That is not the case here. Fern is kind and loving and not at all judgmental. Scripture is shared and not mocked. There is also a great message of having faith in God's timing and His plan, even when you can't possibly understand them. This all worked really organically within the story and never felt like you were being "preached" at, if that's something that bothers you. I can't even begin to explain how much I appreciate this aspect of the book.
I obviously shipped Ambrose and Fern. I really liked how their relationship developed and how they also grew as characters – and felt like there was so much more to them than just a romance. One major character that's really central to the story and isn't mentioned in the synopsis is Bailey. Bailey is Fern's cousin and best friend and the son of Ambrose's wrestling coach. He has muscular dystrophy and is confined to a wheelchair. People with muscular dystrophy do not have very long life expectancies, but Bailey has such an amazing attitude. He tries to live life to the fullest every day and do as much as he can. He has a great sense of humor. He loves his family and friends and Fern and wrestling. He was such an amazing character and one that turned me into a blubbering mess while reading.
There were only a couple of things I didn't like. There were several times the flashbacks seemed to come out of the blue. While in most cases there was a definite separation between present and past, there were a couple other times where it just randomly switched from one paragraph to the next and it was a little jarring. Perhaps this is just a formatting issue with the ARC, though? I also did not really like the character Rita. I felt like she was so selfish and that she wasn't so much developed as her own character, but as more of a catalyst for storylines involving Fern and Bailey.
The  paperback copy includes bonus content, which is two interviews between Ambrose and ESPN – one during his senior year in high school and one that takes place sometime between the final chapter and the epilogue. I really liked both of them and the extra bit of insight it gives into Ambrose.
Overall, I just loved Making Faces. It's not a light book. It hurt to read at times. But it was beautifully written and included some amazing characters and really important messages. I really don't think I can recommend this book enough. I'm definitely going to be looking up other books by this author in the future.
Overall Rating (out of 5): 4.5 Stars