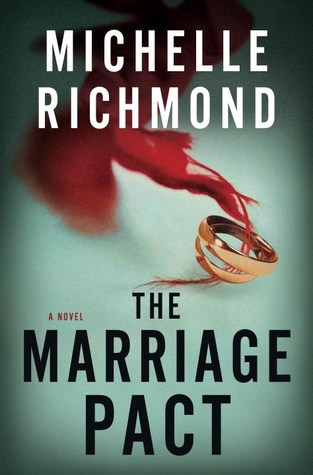 Synopsis from Good Reads:
In this relentlessly paced novel of psychological suspense, New York Times bestselling author Michelle Richmond crafts an intense and shocking tale that asks: How far would you go to protect your marriage?

Newlyweds Alice and Jake are a picture-perfect couple. Alice, once a singer in a well-known rock band, is now a successful lawyer. Jake is a partner in an up-and-coming psychology practice. Their life together holds endless possibilities. After receiving an enticing wedding gift from one of Alice's prominent clients, they decide to join an exclusive and mysterious group known only as The Pact.


The goal of The Pact seems simple: to keep marriages happy and intact. And most of its rules make sense. Always answer the phone when your spouse calls. Exchange thoughtful gifts monthly. Plan a trip together once per quarter. . . .

Never mention The Pact to anyone.

Alice and Jake are initially seduced by the glamorous parties, the sense of community, their widening social circle of like-minded couples.
And then one of them breaks the rules.
The young lovers are about to discover that for adherents to The Pact, membership, like marriage, is for life. And The Pact will go to any lengths to enforce that rule.
For Jake and Alice, the marriage of their dreams is about to become their worst nightmare."
I received a copy of this title via NetGalley. It does not impact my review.
The Marriage Pact will be available July 25, 2017.
I was in a weird book slump where nothing was sounding good to me when I decided to start reading The Marriage Pact. While it did take me a few chapters to get into it – whether because it started out a little slow or because of my mood, I'm not sure – it did eventually hook me and I could hardly put it down.
When Jake and Alice get married they receive an odd wedding present from a new acquaintance. It's a locked box that they cannot open until they answer a series of questions about what they want their marriage to be and then wait for someone to come visit their home and explain. Inside the box is the Marriage Pact. A contract and a manual of rules to follow in a marriage, as well as a list of punishments if you break the rules. The goal of the pact is to have a lasting, successful marriage, so they agree to join. However, they soon come to realize how cult-like it is and how dangerous it is for them if they do not "make peace with the pact."
Though I thought the book was a little too long and there was a little too much detail at times, I liked the writing style. It's told from Jake's 1st person POV and I found him likable, though often frustrating. I found myself disliking Alice most of the time because of how hard she was to nail down, which was also one of the things Jake loved about her.
I thought the psychological suspense aspect of the book to be really well done. I really felt Jake and Alice's fear of the Pact. I am really fascinated by cults and the Pact is basically a cult. The punishment sessions were creepy and crazy. I never quite understood why it was so severe, though. There is an explanation late in the book about why punishment needs to exist to enforce the rules, but it still didn't make a lot of sense to me. I guess cults don't really make sense, though.
Overall, I really enjoyed The Marriage Pact. Though it started out a little slow for me and did get bogged down in the details a bit, for the most part it was well-paced and seriously creepy. I had fallen into a book slump before I started this and it definitely pulled me out. This is my first Michelle Richmond book and I'll definitely be reading more from her.
Overall Rating (out of 5): 4 Stars