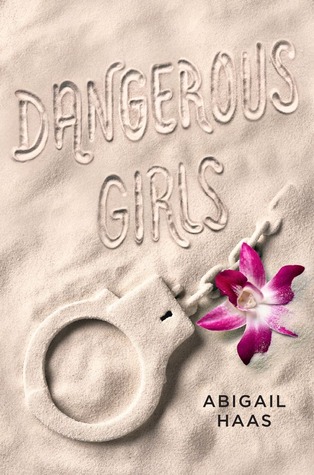 Synopsis from Goods Reads:
It's Spring Break of senior year. Anna, her boyfriend Tate, her best friend Elise, and a few other close friends are off to a debaucherous trip to Aruba that promises to be the time of their lives. But when Elise is found brutally murdered, Anna finds herself trapped in a country not her own, fighting against vile and contemptuous accusations.

As Anna sets out to find her friend's killer; she discovers hard truths about her friendships, the slippery nature of truth, and the ache of young love.

As she awaits the judge's decree, it becomes clear that everyone around her thinks she is not just guilty, but dangerous. When the truth comes out, it is more shocking than one could ever imagine…
First off, I want to thank Justine over at Paperback Heart for this book that I won in her giveaway!
This book isn't quite what I expected. While I avoided spoilers, I read lots of reviews that talked about how Dangerous Girls totally screws with your head (in more colorful language) and for the most part I didn't feel like that when I was reading it. But once I finished it, yeah, I think I agree.
Anna, Elise and their friends appear to be the typical YA party girls. They are rich and spoiled and completely unlikable. I definitely have to give props to Haas's writing when it comes to the character development. It's definitely hard to have main characters that are so unlikable, with little to no redeeming qualities, and still come out the other side with such an intense emotional payoff.
It's impossible not to mention the similarities to the Amanda Knox headlines. There are a lot of similarities between Anna and Amanda. Both are seen soon after the crime to be canoodling with their boyfriends. Both have an unusually calm reaction to the murder of their friend. Both are villainized  in the public eye with little to no real evidence supporting their guilt. I followed a lot of the Knox trial  so I found the similarities in the crime and ensuing investigation really interesting.
While the trial and the murder mystery is definitely a big part of the novel, the relationship between Anna and Elise is really the central part of the story. Their friendship is intense, co-dependent, toxic. There are lesbian undertones that have you continually second guessing through the story whether they're just affectionate teenage girls or something much more. It's almost hard to say whether Elise is more obsessed with Anna or if Anna is more obsessed with Elise. Again, Haas's writing is almost flawless in this regard.
I enjoyed the timeline jumping through the chapters. We skip around from the vacation, to when Anna and Elise first meet, to the trial, and more multiple times and it just works. Not all authors could pull this off so cohesively, but it's done really well here. There is a twist ending and while there were times that I almost guessed it was going to turn out that way, I wasn't expecting it by the time we actually got there. My only real problem with the ending is that I found it a bit confusing at first, as things are obviously suggested, but not specifically revealed.
Overall, I really enjoyed Dangerous Girls. I found it to be a very compulsive read that I could hardly put down. I read it in two sittings and honestly considered calling in a vacation day at work today so I wouldn't have to go to bed last night (alas, my vacation leave did not support that idea). It was an intense, well-written, character-driven novel and I would recommend it to fans of crime, YA, Amanda Knox-like headlines and Gone Girl. I'm looking forward to reading Dangerous Boys!
Rating (out of 5):
Plot: 3.5
Characters: 4
Readability: 4.5
Enjoyability: 4.5
Overall Rating: 4.125 stars