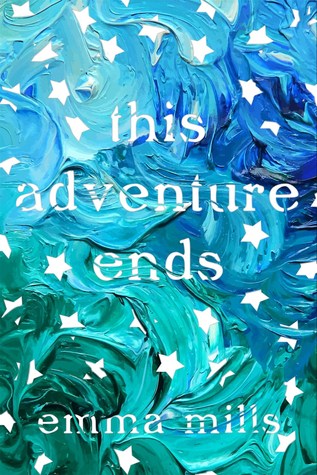 Synopsis from Good Reads:
Sloane isn't expecting to fall in with a group of friends when she moves from New York to Florida—especially not a group of friends so intense, so in love, so all-consuming. Yet that's exactly what happens.

Sloane becomes closest to Vera, a social-media star who lights up any room, and Gabe, Vera's twin brother and the most serious person Sloane's ever met. When a beloved painting by the twins' late mother goes missing, Sloane takes on the responsibility of tracking it down, a journey that takes her across state lines—and ever deeper into the twins' lives.

Filled with intense and important friendships, a wonderful warts-and-all family, shiveringly good romantic developments, and sharp, witty dialogue, this story is about finding the people you never knew you needed.
I received a copy of this title from NetGalley. It does not impact my review.
This Adventure Ends will be available October 4, 2016.
I loved this book so hard! The characters, the family, the friendships, the humor, the emotion. This book just made my heart happy. I was a big fan of First and Then by Emma Mills and while this book is very different, it gave me that same kind of feeling when I read it – like I never wanted it to end.
What I Loved
-I really liked Sloane. She hid her feelings behind humor and snark most of the time and I kind of loved it (and found it very relatable). I loved the quick wit and the banter she had with the other characters. I loved, loved the friendships in this book. The group of Sloane, Gabe, Vera, Remy, Aubrey, and occasionally Frank was just so great. They were always there for each other and even when they had some drama, they worked through it.
-I also really liked the focus on Sloane's family. While they're a little quirky and not perfect, they are all very loving. Sloane has a great relationship with all of them, even though there are some fights and misunderstandings. I especially loved her relationship with her father and that she (and her friends) are fans of his books. His depression-fueled fanfiction obsession with a teen werewolf show was a very odd plotline, but it somehow worked with the story.
-Of course, being a YA Contemporary, there was romance in the book and I shipped it. I loved the slow burn build and that it really started out of friendship. I also loved how it didn't overwhelm the plot at all. The story is really focused more on friendship than anything else and that's where it really excelled.
-I love Mill's writing style. She does an excellent job with the characters and Sloane's growth, especially. Though the story isn't really fast paced at all, it's an easy and quick read. As I mentioned above, while the story is different than First and Then, the style is similar and so is the feeling I got when I read it. I really just could've gone on reading about these characters for much, much longer, no matter what they were doing.
———-
What I didn't Love quite so much
-Remy has a crisis of faith and I think it really could've been developed into something, but instead his faith is basically mocked – by Sloane who mocks everything she doesn't understand, but still. There were several "diverse" characters in this book and I wish the Christian character would've been just a little more developed and his faith treated with a little more respect. I did like, however, that he wasn't portrayed as some hypocritical wacko, but just a normal guy who messes up sometimes and has some issues.
-We get so much time spent with Sloane's father and a good amount of time with her little sister, but her mom didn't get a lot of page time. I would've liked to have seen more of her and for there to be more resolution between her parents before the end of the book.
———-
Overall, I just really enjoyed this book and this little review does not do justice to it at all. I read it in basically one sitting. I loved the friendships and I wished I was part of their group. I wasn't sure if this would be able to live up to First and Then for me, but it definitely did not disappoint. I think Emma Mills is going to be on my auto-buy list from here on out.
Overall Rating (out of 5): 4.5 Stars