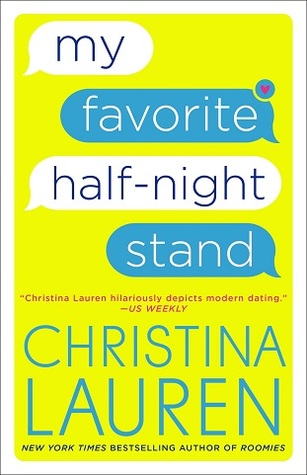 Synopsis from Goodreads:
From the New York Times bestselling author that "hilariously depicts modern dating" (Us Weekly) comes a sexy romantic comedy about online dating, and its many, many fails.

With a world-famous speaker at their university, Millie Morris and her four woefully single male colleagues make a pact that they'll all find dates. Unfortunately, Millie has more success helping them make matches online than she does navigating the onslaught of lewd pics in her own feed. But when she creates a fictional name for a new account, Millie finds herself vying for the online attention of a man she sees every day in the flesh.
I received a copy of this title via NetGalley. It does not impact my review.
My Favorite Half-Night Stand will be available 12/4/18.
Super cute and fun, My Favorite Half-Night Stand was enjoyable from start to finish.
I absolutely adored Millie and Reid's friend group. All my favorite parts were when they were all together or group messaging. They were funny, but could also be really supportive. In my younger years, I had a lot of very platonic guy friends and some of the conversations they have in this book reminded me so much of hanging out with my friends and being the only girl in the group. I loved how relatable they were.
I liked Millie and Reid together, too. They had a closer friendship than Millie had with the other guys and I really enjoyed their banter and how they were with each other. I didn't love their half-night stands, but seeing as that's the title of the book, I knew what I was getting myself into. The scenes were more graphic than I wanted, but not that bad as it could have been since I was expecting it. And of course, a large part of the target audience will be all about it.
So where it went a little downhill for me was Millie's absolute inability to talk about anything emotionally heavy and how the online dating storyline was extremely similar to another book I've read recently. I didn't like Millie's deceit, even though she had good intentions, and I knew that it would eventually blow up in her face. She really frustrated me at times with her refusal to communicate, too. However, I did like that she really learned some lessons and started to grow as a person because of what happened.
Overall, I really enjoyed My Favorite Half-Night Stand. I liked the romance and the humor and the characters. The group of friends is the reason why I'm upping my rating a little bit more than I thought I would originally give it. Christina Lauren fans will definitely want to give this one a try, as will other Romance/Contemporary readers.
Overall Rating (out of 5): 4 Stars