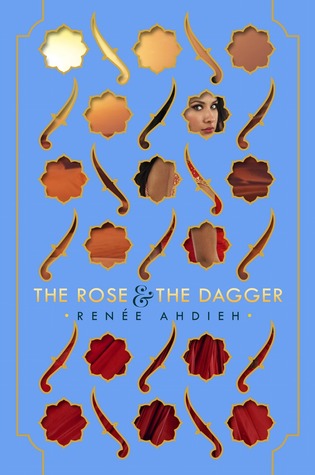 Synopsis from Good Reads:
The much anticipated sequel to the breathtaking The Wrath and the Dawn, lauded by Publishers Weekly as "a potent page-turner of intrigue and romance."

I am surrounded on all sides by a desert. A guest, in a prison of sand and sun. My family is here. And I do not know whom I can trust.

In a land on the brink of war, Shahrzad has been torn from the love of her husband Khalid, the Caliph of Khorasan. She once believed him a monster, but his secrets revealed a man tormented by guilt and a powerful curse—one that might keep them apart forever. Reunited with her family, who have taken refuge with enemies of Khalid, and Tariq, her childhood sweetheart, she should be happy. But Tariq now commands forces set on destroying Khalid's empire. Shahrzad is almost a prisoner caught between loyalties to people she loves. But she refuses to be a pawn and devises a plan.

While her father, Jahandar, continues to play with magical forces he doesn't yet understand, Shahrzad tries to uncover powers that may lie dormant within her. With the help of a tattered old carpet and a tempestuous but sage young man, Shahrzad will attempt to break the curse and reunite with her one true love.
I was quite pleasantly surprised by how much I enjoyed The Wrath and the Dawn. Unfortunately, The Rose and the Dagger surprised me by how underwhelming I found it.
For a long time it felt like NOTHING was happening. There was really nothing going on that was advancing the plot in any way. This wouldn't be so bad if we were diving into deep character development, but there wasn't much of that either. We kept jumping perspectives between Shahrzad, Khalid, Irsa, Tariq, Jahander, and Omar and we never spent a lot of time with any of them at any given time.
Things finally began to pick up when Shahrzad figured out how to use her magic carpet and met a new character, Artan, who knows about magic and curses. I did like Artan, but we did not get enough of him for me to really grow to love him. There was much hinted at in regards to his family and his aunt's abilities, but barely anything is really done with it. We don't find out any more of Artan's history or why his aunt want's Jahander's book destroyed so badly. It feels like a big loose end that was never tied up and thus a little pointless?
Where the book shines is when Khalid and Shahrzad are together. They are a great example of a romantic pairing being a real team. I enjoy their banter and I enjoy their romance and I can't say there was really a scene that I didn't like when it involved both of them. While there is more to this book than a romance story, I felt like it floundered just a bit when the romance wasn't involved.
While I felt like nothing was happening for much of the beginning of the book, the plot did really pick up towards the end. The talk of war becomes a little more than talk and there's kidnapping and double-crossing, and a few deaths – one of which was pretty emotionally impactful (**VERY MINOR POTENTIAL SPOILER** and I think it was a real missed opportunity that none of the children mentioned in the epilogue was named after this person).
Overall, The Rose and the Dagger was just ok. After how much I enjoyed the first book in the series, I was disappointed that the follow up did not live up to my expectations. However, I really enjoy the relationship between Khalid and Shahrzad and that enough is reason for me recommend this series.
Overall Rating (out of 5): 3 Stars