Synopsis from Good Reads:
"I live for the dream that my children will be born free," she says. "That they will be what they like. That they will own the land their father gave them."

"I live for you," I say sadly.

Eo kisses my cheek. "Then you must live for more."

Darrow is a Red, a member of the lowest caste in the color-coded society of the future. Like his fellow Reds, he works all day, believing that he and his people are making the surface of Mars livable for future generations.

Yet he spends his life willingly, knowing that his blood and sweat will one day result in a better world for his children.

But Darrow and his kind have been betrayed. Soon he discovers that humanity already reached the surface generations ago. Vast cities and sprawling parks spread across the planet. Darrow—and Reds like him—are nothing more than slaves to a decadent ruling class.

Inspired by a longing for justice, and driven by the memory of lost love, Darrow sacrifices everything to infiltrate the legendary Institute, a proving ground for the dominant Gold caste, where the next generation of humanity's overlords struggle for power. He will be forced to compete for his life and the very future of civilization against the best and most brutal of Society's ruling class. There, he will stop at nothing to bring down his enemies… even if it means he has to become one of them to do so.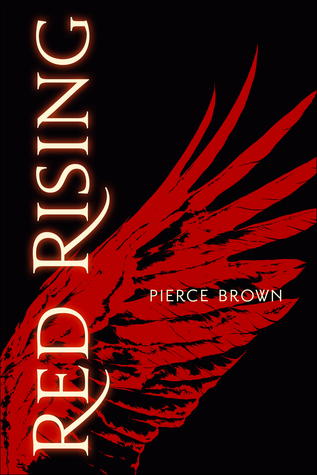 I received a copy of this title from the publisher via a Good Reads giveaway. It does not impact my review.
This book has been on my radar for such a long time, but for some reason I just never really felt like picking it up. A part of me just thought, "eh, it's just another dystopian." BUT I WAS WRONG! It's so good (bloodydamn good, you might say). This story, while it can in a way be considered a more intense Hunger Games, is so much more than your average dystopian. While some themes are obviously familiar, Brown's writing breathes fresh life into a story of the oppressed and the start of their revolution.
Darrow lives in a primitive, strictly regulated society on Mars. Though there is little to no luxury or freedom, he is more or less content with his life. He's the best at what he does and he loves his wife and his family. He believes what he's been told, that he's helping prepare Mars for the weaker race of humans to be able to inhabit it. His wife, Eo, though, is not content with their lot. She believes they are slaves and that they should have more, be more. It is through her sacrifice for the dream of freedom that Darrow is able to find out just how right his wife was. Mars is already inhabited and he and his people are slaves, considered the lowest of the low in the hierarchy. Darrow joins the revolution to honor and avenge his wife and begins the process to become a Gold member of Society and join the Institute, where the leaders of the Gold are made.
Red Rising moves at a pretty steady pace, but it took me well over a hundred pages to really get into the story. There was a lot of information given early on about how the society works and I was a bit confused at times. However, once Darrow gets to the Institute the story really begins to pick up. This is where comparisons to the Hunger Games come in, but it is much more brutal and intense and it also provides a lot more opportunity for strategy and intrigue. The betrayals and the deaths are more shocking because in this game, they shouldn't be necessary to win.
Brown's writing is really quite brilliant. He doesn't rely on big, shocking twists, which I have come to expect from these type of stories, but there are so many subtle shifts and surprises throughout the story. There isn't a lot of what I would consider banter, but the sarcasm is clever and biting. He also made many seemingly unlikable characters, people I could root for and care about.
I'm afraid this little review does not do justice to how great this book is and how much I enjoyed reading it. Though it took a bit to get into the story, once I did I was heavily invested and couldn't put it down. The characters are empathetic, the plot was forever evolving and surprising, and the writing was beautiful. I highly recommend Red Rising and am very excited to start the next book in the series.
Overall Rating (out of 5): 4 Stars