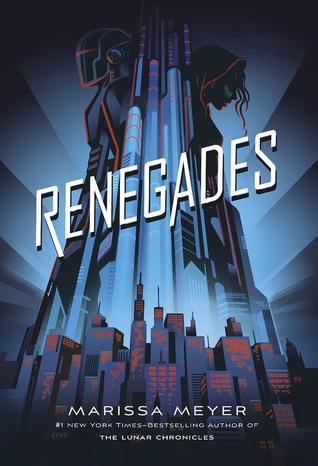 Synopsis from Good Reads:
From #1 New York Times-bestselling author Marissa Meyer, comes a high-stakes world of adventure, passion, danger, and betrayal.

Secret Identities.
Extraordinary Powers.
She wants vengeance. He wants justice.

The Renegades are a syndicate of prodigies—humans with extraordinary abilities—who emerged from the ruins of a crumbled society and established peace and order where chaos reigned. As champions of justice, they remain a symbol of hope and courage to everyone…except the villains they once overthrew.

Nova has a reason to hate the Renegades, and she is on a mission for vengeance. As she gets closer to her target, she meets Adrian, a Renegade boy who believes in justice—and in Nova. But Nova's allegiance is to a villain who has the power to end them both.
I received a copy of this title via a giveaway from the publisher. It does not impact my review.
I am a big fan of Marissa Meyer's Lunar Chronicles series and despite not being a big superhero fan have been really looking forward to Renegades. I was very excited to win an advanced copy through a giveaway from the publisher.
Renegades tells the story of a world where prodigies exist. Prodigies are people with special abilities. They had been persecuted for a long time until a very powerful prodigy, Ace Anarchy, staged a rebellion against the powers that be. During this Age of Anarchy when crime was running rampant, a small group of prodigies formed to try and restore justice, calling themselves the Renegades. Now the Renegades rule the land. Nova, one of the few anarchists left and one with a very personal grudge, wants to take the Renegades down and plans to "become" a Renegade to take them down from the inside.
Renegades appears to be very heavily inspired by X-Men. Most of the plot and characters reminded me of the movies (I've never read the comics). The story was pretty predictable, but it was still fun and I enjoyed it. I did think the book was far too long for what little happened, though. There was a lot of world building and an over-the-top amount of description (for me, anyways). This book really just seemed like it was more concerned with setting up the series then anything else. I remember not loving Cinder (the first book in the Lunar Chronicles series), but thought all the rest of the series was fantastic, so I have high hopes for the following books.
I liked Nova and the morally gray ground she walked. She is smart and funny. She's on a mission for vengeance, but she also thinks that society would be better off without the renegades. She feels like people rely too heavily on them instead of providing for themselves and non-prodigies should be able to form their own government again. Adrian is part of a superhero dynasty and leader of the team that Nova joins when she becomes a Renegade. He believes in the renegade's mission, but also thinks there is some room for improvement. Adrian is a very lovable character and I enjoyed all of his POV chapters. The romance between Nova and Adrian is very slow burn and is still in very early stages by the end of the book. There wasn't a whole lot of development on the other characters and I hope they all become a little easier to keep straight in the coming books.
Overall, I enjoyed Renegades. It was a fun story with likable characters. I did feel like it was a little too long, though, and the pace was pretty slow for most of it. Not a whole lot really happened and because of this I can't quite give this 4 stars. I do have very high hopes for the rest of the series, though.
Overall Rating (out of 5): 3.5 Stars