I read a lot of books that I don't end up reviewing for whatever reason. Some because I wasn't impressed. Some because I didn't have the time. Some I just wasn't feeling it on whatever particular day I finished. I thought I'd start doing a post once a month  with just the couple thoughts I shared on Good Reads.
Kill Shot (Mitch Rapp #2) by Vince Flynn. Read August 26-31 (Yes this was last month, but it was too late for my August post) 4 Stars.
While I liked the first book in this series, I enjoyed this one a lot more. There was loads more character development and the storyline was really intriguing. I found the large cast of supporting characters a little hard to keep straight at times, but that was really my only complaint. I'm looking forward to continuing the series.
Down with the Shine by Kate Karyus Quinn. Read September 1-3. 4 Stars.
What a weird, clever little book! Wishes and moonshine, murder and romance. The main character, Lennie, was a kind of unlikable most of the time, but I still rooted for her throughout the whole book. I liked her uncles and her friend Larry and the evolution of her relationship with Smith. I thought the end was really cleverly written.

I've read this author's previous books and really didn't like one and really liked the other, so this book was the tie-breaker that has made me decide I like this author's work.
Broken Prince (The Royals #2) by Erin Watt. Read September 3-4. 3 Stars.
It took me a little longer to get into this book than it did the first one. Not a lot happened until it got towards the end of the book and then it was mostly just setting up the third book. But I am quite interested in reading the third book now, so I guess that worked.
Getting Reed's POV was kind of letdown. I thought he was an interesting character in Paper Princess, but every time we get his POV he's basically just whiny and pining. I actually enjoyed his character much more from Ella's POV, so I'm glad this book shared POV with her.
I've had about a billion problems with Callum since the first book, but he finally redeemed himself (partly anyways) for me in this book. He's not as clueless or as big of a jerk as I thought he was, so that made me happy.
Chance of a Lifetime (Anderson Brothers #3) by Marissa Clarke. Read September 4-5. 2 Stars.
I liked seeing a blind lead character. I thought the story did a good job of showing that someone with a disability can be independent and capable. I wished the character had been a little more likable, though. I did like Chance, though. The bucket list plot didn't take up very much of the story like I thought it would. There was a ton more graphic sexual content than I was expecting, as well. I would've enjoyed some more character development or actual plot in place of at least a couple of those scenes, but I guess that's the genre. Overall, just an ok book for me, though may be worth the read if you're a fan of romance novels and looking for more diverse characters.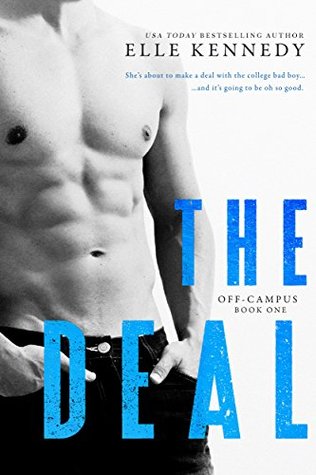 The Deal (Off-Campus #1) by Elle Kennedy. Read September 5-7. 3 Stars.
I've seen people rave about this series and I decided to finally give it a try, even though New Adult is not really my genre. I was pretty surprised that I actually ended up liking this. The story is super familiar (and a little overdone) and there wasn't anything really surprising in it, but the character development was well done and both the main characters were likable. There was some good bantering, as well. Being New Adult, of course there were the requisite graphic scenes, but I was actually kind of surprised that it didn't take up half the book. There was actually more story than sex scenes, so kudos to Kennedy for that (especially since I'm pretty sure she writes full-on erotica with her other books). It did go on a little too long, but overall I enjoyed it – especially the development of Garret and Hannah's relationship – and will read the next book in the series.
The Mistake (Off-Campus #2) by Elle Kennedy. Read September 7-9. 2.5 Stars.
The extra half star for all the scenes between Logan and his roommates because those were often pretty comical. This book could have used a lot more of that. I didn't like this book as much as the last one, but it did have a few cute moments. It was definitely more the type of NA book I'm used to (and try to avoid), so I was a little disappointed. Might still try the next book, though.
The Twenty-Three (Promise Falls #3) by Linwood Barclay. Read September 11-13. 4 Stars.
I really enjoyed The Twenty-Three. I loved how all the mysteries came to a head and were resolved, with just enough twists thrown in to keep me on my toes. The writing, as always, was wonderful and suspenseful. I really had a hard time putting this one down and the few times I had to, I was still thinking about it. I definitely recommend this series to fans of mystery/suspense. Full review to come closer to release date.
The Girl with the Lower Back Tattoo by Amy Schumer. Read September 7-24. 3 Stars.
I feel kind of bad for saying I didn't enjoy this as much as I thought I would because it wasn't as funny as I was expecting. Schumer really lays a lot of her life out there and a lot of it is really heavy stuff. I wasn't expecting how serious so much of this book was, but I appreciate her willingness to go there and also the positive reinforcement to women to accept themselves and not settle for things like the abusive relationships she lived through. There were several funny and light-hearted moments, just not as many as I would have liked.
*************************************************************************
DNF
Stalking Jack the Ripper by Kerri Maniscalco. Could not get into this at all. I tried to keep going, but finally decided to DNF when it started mocking religion. If the writing and the story had been interesting enough I could look past that, but since I wasn't impressed up to that point, it was the last nail in the coffin.
*************************************************************************
RE-READS
Fiancé by Fate by Jennifer Shirk. I was just in the mood for something cute and I read the sequel to this book last month which made me want to read this one again.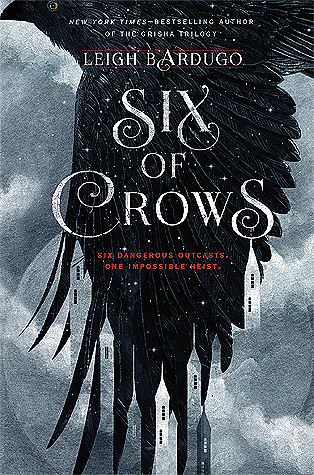 Six of Crows by Leigh Bardugo. Had to re-read it to prepare for Crooked Kingdom. I love it just as much every time I read it.