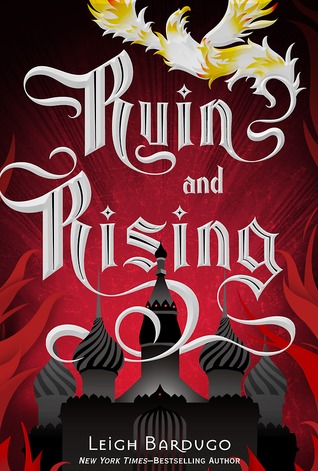 Ok, so I have tried and tried to review this book and I don't know why, but I just can't write anything I like. I have decided to just go with listing the things I liked and didn't like. And it will be ***SPOILERS GALORE***. So if you haven't read it yet, don't read any further. This a great series that deserves to be read without spoilers.
You can read a synopsis here.
SPOILERS FROM HERE ON OUT!
-The character development in this book is superb! Like, for real. Mal is the least annoying he's ever been in this book. That's not to say he's still not a little annoying, though. He's decided to dedicate his life to protecting Alina and knows that he can't be with her. But he still loves her and though he tries to ignore it, he's still letting her know every time she turns around. A lot of the minor characters get a lot more developed, as well. Genya and David. Toyla and Tamar. Even Zoya.
-And then there's the Darkling. Layers and layers and layers of characterization. We learn his mother, Bhagra's, back story, that she is actually the daughter of Morozova. We learn that the Darkling's name is actually Aleksander and that deep down all he wants is to be Aleksander and have a friend. He wants Alina so much because he thinks she's like him and he doesn't want to be alone. But ultimately, he wants the power of the amplifiers.
-I still love Nikolai/Sturmhond. He's still one of my favorite characters and I almost wanted Alina to end up with him. I was a little disappointed that he's not actually in love with Alina, but I do enjoy their friendship. I was super upset when the Darkling turned him into some weird creature. But I liked that at the end he was ok, though scarred. I wish there would've been a little more of him in the story, but overall, his arc within the series was very well done.
-Mal's the amplifer! Why didn't I see that coming? He was obviously more than a normal person, but the amplifier? And why exactly did they have to find the firebird to figure that out? I'm still a little confused about that.
-There was a little too much wandering around the woods with Alina and Mal wallowing in their own thoughts. Things could have sped up a little here.
-I really liked the twist that after uniting all three amplifiers (RIP Mal! – but not really), Alina's power was distributed to the people. Her heroic journey ends with her sacrificing her power and she gets to be the normal girl she always wanted to be. Even though she has a hard time still wanting it.
-Alina kills the Darkling. Not with great power, but with Grisha steel. I agree with The Darkling when he's like "Like this?" That's how he ends. Just stabbed with Grisha steel. Which begs the question, WHY DIDN'T ALINA ALWAYS HAVE GRISHA STEEL WITH HER?!?! She could have just stabbed him while kissing him at the end of the second book instead of draining all her power. That seems a little bit of poor planning on Bardugo's part.
-I loved how Alina has mixed feelings on the Darkling's death. Yes, he was evil and needed to be put down. But also, he's sad, confused, lonely Alesander, who should be mourned.
-I got the ending I kind of always wanted, normal Alina and Mal together – at their old home of all places, but I'm a little disappointed with it. It seems a little anticlimactic after all the excitement they lived through. But, I liked that they're still friends with Nikolai and their other Grisha friends.
-Overall, I really did enjoy this book. I thought it was a good end to the series. Bardugo's writing and imagination is amazing and her characters are twisted and tormented and complex and lovable and wonderful. I'm sad to see this series end, but look forward to reading more from her in the future.
Plot: 3.5
Characters: 4.5
Readability: 4
Enjoyability: 4
Overall Rating: 4 Stars