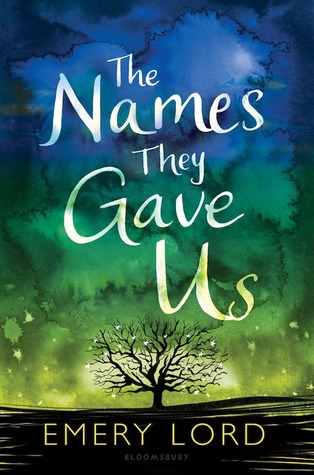 Synopsis from Good Reads:
Lucy Hansson was ready for a perfect summer with her boyfriend, working at her childhood Bible camp on the lake. But when her mom's cancer reappears, Lucy falters—in faith, in love, and in her ability to cope. When her boyfriend "pauses" their relationship and her summer job switches to a different camp—one for troubled kids—Lucy isn't sure how much more she can handle. Attempting to accept a new normal, Lucy slowly regains footing among her vibrant, diverse coworkers, Sundays with her mom, and a crush on a fellow counselor. But when long-hidden family secrets emerge, can Lucy set aside her problems and discover what grace really means?
I received a copy of this title via NetGalley. It does not impact my review.
The Names They Gave Us will be available May 16, 2017.
When I think of Emery Lord books, I think of trying too hard.  Even though I've liked some of her other books (especially The Start of Me and You), I always feel like she just tries way too hard to be deep and meaningful. It comes across a little self-indulgent and melodramatic to me. While this book did have cute, funny, and even poignant moments, it still felt like it was trying too hard.
I felt like I should've found Lucy really relatable (pastor kids unite!), but I never fully connected with her. She was a mostly likable character, though. I mostly liked her group of friends at camp, though I wish they would've been developed just a bit more. I did really love Jones, Lucy's new love interest. He was so sweet and I enjoyed pretty much every scene he was in. I also liked the camp setting and the kids there.
I have heard from people who are hesitant about this book because there is some religious content. If you are one of those people, I would say you might be slightly annoyed at times, but I don't think it's written in a way that will "ruin" the book for you. I have also heard from people who were very happy to see a "realistic" Christian character not be a complete psycho. To those people I would caution to not get too excited. Yes, the main character comes from a religious background and is not awful. However, this is NOT a Christian book and the overall message is not of Christian faith. There are definitely a few themes throughout that is congruent with the Christian faith, but at the end of the day the message is more one of universalism and the goodness of people. I mean, it's still a hopeful message and is more than is in most YA, but I just want to caution my Christian friends.
Overall, The Names They Gave Us, was just ok for me. I felt like it was too long for what little was going on and a little repetitive and then it had a pretty abrupt ending. I did really enjoy Lucy and Jones' slow burn romance, though. I think that Emery Lord fans will probably still enjoy it.
Overall Rating (out of 5): 2.5 Stars