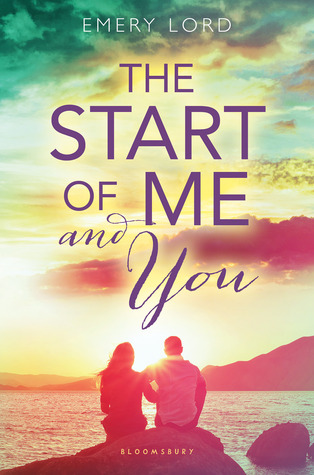 Synopsis from Good Reads:
It's been a year since it happened—when Paige Hancock's first boyfriend died in an accident. After shutting out the world for two years, Paige is finally ready for a second chance at high school . . . and she has a plan. First: Get her old crush, Ryan Chase, to date her—the perfect way to convince everyone she's back to normal. Next: Join a club—simple, it's high school after all. But when Ryan's sweet, nerdy cousin, Max, moves to town and recruits Paige for the Quiz Bowl team (of all things!) her perfect plan is thrown for a serious loop. Will Paige be able to face her fears and finally open herself up to the life she was meant to live?
I wasn't a huge fan of Open Road Summer so I wasn't expecting much from The Start of Me and You. I am quite pleased to say that it definitely surpassed my expectations and I really enjoyed it!
Paige was dating Aaron for about two months when he tragically drowned on a camping trip. While she mourns his loss and has suffered from some PTSD related nightmares, what she really has trouble coping with is The Look. The way people give her pitying looks and identify her only as the girlfriend of the boy who drowned. She's ready to really start moving on and being happy again. She makes up a list of things she thinks will help her do this and embarks on the new school year determined to make it happen.
My problem with Open Road Summer is that I felt it tried too hard to be deep and meaningful, while still being a cute contemporary. I think that The Start of Me and You does much better at balancing the cute with the Message. The characters were relatable and likable. The problems were never too melodramatic. The romance, as well as the growing friendships, were a slow burn.
One thing this book does really well is the friendships. Paige has a core group of friends – Tessa, Morgan, and Kayleigh – who are all pretty different, but are always there for each other. That doesn't mean they don't ever fight, but they always make up. While there was opportunity for great girl drama (my crush has a crush on my best friend, you're spending more time with your boyfriend than you are with me, etc.), it never went there and I was really grateful it. There were no frenemies here! While the friendship between Ryan and Max isn't as explored, we know that they are really close, as well. I also liked how Paige's and Max's group of friends converged throughout the book.
I also liked that there was an "adult presence" in the book. So many YA books have completely absent or oblivious parents and that always gets on my nerves. Paige has present parents and she has a realistic relationship with them. I also really liked their English teacher, Ms. Pepper. She provided several humorous moments throughout the book.
The relationship between Paige and Max was very cute, as well. They start out a bit uncomfortable, but slowly become friends. It's several months before Paige even begins to realize that she may like him as more than a friend. I loved their banter and inside jokes. His nickname for her reminded me of Gansey and Blue from The Raven Boys so while they have nothing to do with each other, I think it endeared them to me more.
The underlining message of it all was about overcoming tragedy to live your life and the journey it takes to get there. I think Lord does a good job of weaving this into the other storylines about Paige's friends and Max and her grandmother. While there were a few times it almost got a little "preachy" about it, I didn't feel as brow beaten with it as with Lord's former book. It seemed much more organic and less forced.
Overall, I really enjoyed The Start of Me and You. The characters were likable and the romance was sweet. The writing was often humorous and I found myself smiling a lot while I was reading. I would definitely recommend this to fans of YA Contemporary.
Overall Rating (out of 5): 4 Stars