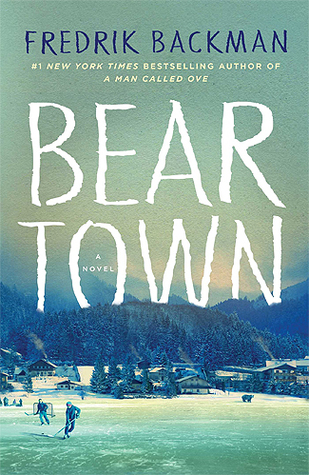 Synopsis from GoodReads:
People say Beartown is finished. A tiny community nestled deep in the forest, it is slowly losing ground to the ever-encroaching trees. But down by the lake stands an old ice rink, built generations ago by the working men who founded town. And that rink is the reason people in Beartown believe tomorrow will be better than today. Their junior hockey team is about to compete in the national championships, and they actually have a shot at winning. All the hopes and dreams of the town now rest on the shoulders of a handful of teenage boys.

A victory would send star player Kevin onto a brilliant professional future in the NHL. It would mean everything to Amat, a scrawny fifteen-year-old treated like an outcast everywhere but on the ice. And it would justify the choice that Peter, the team's general manager, and his wife, Kira, made to return to his hometown and raise their children in this beautiful but isolated place.

Being responsible for the hopes of an entire town is a heavy burden, and the semifinal match is the catalyst for a violent act that leaves a young girl traumatized and a town in turmoil. Hers is a story no one wants to believe since the truth would mean the end of the dream. Accusations are made, and like ripples on a pond, they travel through all of Beartown, leaving no resident unaffected.
Have you ever read a book that's kind of depressing and really inspiring at the same time? That's Beartown.
To be perfectly honest, I really had no interest in this book, despite all the amazing reviews. I just didn't think it sounded like it would be for me. But then a friend lent it to me (thanks Brandie!) and after it sat on my table for a month, I finally felt like giving it a try. And now it's one of my favorite books of the year. Though it took me a little while to really get into the rhythm of the writing, once I did I was completely enthralled. It's beautiful and insightful and will be sticking with me for a long time.
The story is very character driven. There is a very large cast of characters in this town and they all play a part and provide a unique perspective. I thought I would have trouble keeping them all straight, but I really didn't. While it did make the pacing a little slow, Backman really lets us get to know all the characters. I had my favorites and I had those I hated and some characters I both loved and hated. They were real and relatable and heartbreaking and inspiring.
"…Most people don't do what we tell them to. They do what we let them get away with."
I thought this was going to just be a sports book and even though I knew something bad was going to happen, I wasn't expecting it to be so heavy. I thought this was one of the most honest books I have every read and that honesty will both make you despair and and give you hope.
Overall, I really loved Beartown. I know this little review doesn't come close to expressing how much. I was incredibly invested in the characters and their town and I know this story will be with me for a long time. The writing was beautiful and sometimes I found myself just wanting to cry without even really knowing why (and other times when I definitely knew why…). If you haven't read this book yet, do yourself a favor and give it a try.
Overall Rating (out of 5): 4.5 Stars