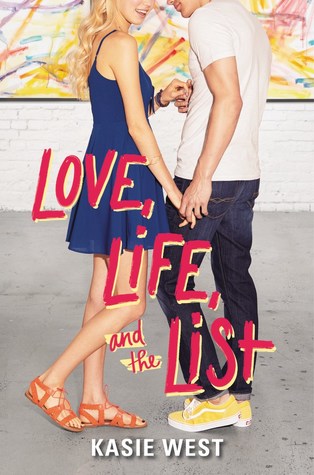 Synopsis from Good Reads:
Everyone knows Abby Turner is in love with her best friend, Cooper Wells. Including Cooper Wells. But despite what people tell her, it doesn't affect their friendship. And she's practically over it, anyway. What she really can't get over is when her boss at the local museum tells her that her paintings lack heart.

Art is Abby's passion and she hopes her future as well. She is determined to change his mind and earn her way into the upcoming exhibit at the gallery. So along with her family's help, she compiles "The Heart List," a series of soulstretching experiences that are sure to make her a deeper person and better artist in six weeks or less. When Cooper decides to complete the list along with her, she realizes this list is expanding her heart in more ways than one. Maybe she needs to start another project.

Love, Life, and the List is about a girl who, in an effort to bring more emotional depth to her art, compiles a list of soul-stretching experiences to complete with her best friend—a boy she also happens to be in love with.

This is the first in a set of three standalone books with crossover characters.
I'm very stingy when it comes to spending my money on books, but if there's one author I don't hesitate to buy a book from it's Kasie West. I know her books will always be super cute and make me happy and Love, Life, and the List did not let me down.
I loved how sarcastic Abby was. I loved the banter she had with pretty much every character in the book, but especially her equally sarcastic grandfather. I also found her mother to be a pretty empathetic character. She's overly anxious and has some agoraphobic tendencies that I relate to all too well. I liked that the book didn't just include Abby's growth, but her family's as well.
I loved the friendship between Abby and Cooper. There was a little while there when I was actually rooting for them to just stay friends and for no romance to really be involved. But, I don't feel like it's a spoiler to say there is a romantic Happily Ever After involved and that it was cute and a little bit cheesy and I loved it. I also liked how Abby made a few more friends in the book with Elliot and Lacey.
I wasn't really sure what I would think of the list plotline. To be honest, it didn't seem real interesting to me when I read the synopsis, but I ended up liking it. When she gets turned down for an art show because her paintings lack heart, her boss tells her that some more life experience will get her there eventually. She decides to try and speed up the life experience process by making the list. She also includes tasks inspired by people who have qualities she admires. I actually thought this was a really productive way to try and enrich one's life. I think a lot of us say we want to try to be a better person, but don't actually come up with ways to do that. I felt like this was a perfect book to read at the end of the year when we all try to come up with resolutions to do better in the future.
Overall, I really enjoyed Love, Life, and the List. It was so cute and I loved the friendship and the banter. It was everything I expect out of a Kasie West book and I definitely recommend it to fans of hers and Contemporary YA.
Overall Rating (out of 5): 4 Stars