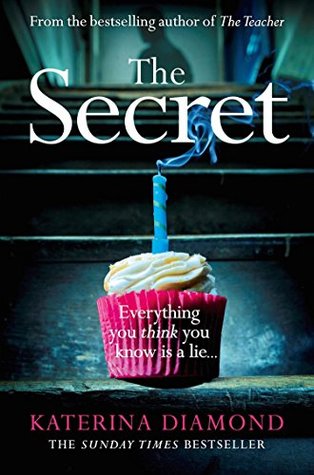 Synopsis from Good Reads:
EVERYTHING YOU THINK YOU KNOW IS A LIE…

Can you keep a secret? Your life depends on it…

Bridget Reid has a secret, one that could get her killed… If she can escape the man who is keeping her locked in a basement bedroom.

DS Imogen Grey is good at keeping secrets – truths she'd never reveal to her colleagues at Exeter Police. She worked hard to get where she is – she nearly died for it. Now her past is catching up with her…

As DS Grey and her partner DS Adrian Miles search for Bridget, they uncover a terrifying web of abuse, betrayal and murder. And they realise that some secrets are better left buried…
Another fantastic book I discovered through Annie @ The Misstery. The Secret is a well-plotted, smartly written, super dark novel and I enjoyed every minute of it.
This is the second book in a series, but I felt it stood really well on it's own since I didn't read the first book and I didn't feel lost at all like I was afraid of. Detectives Imogen Grey and Adrian Miles are newly re-united partners investigating a double murder and a missing person. As the case progresses it begins to tie back to one of Imogen's past cases from two years prior, one that forced her to transfer to another department. I really loved the multiple timeline storytelling. It is told by multiple POVs in the Present, 2 Years Ago, and a POV from an anonymous boy as he grows up. I loved trying to figure out who all the characters were in the anonymous POV and how everything from the past fit into the present. I love that I didn't figure everything out half-way in like I do with so many other books in this genre.
Imogen was kind of a hard character to like most of the time, but I did enjoy her overall. I really loved her partner, Adrian! Though he was definitely not a perfect person, he was sweet and protective and smart. I loved how his relationship with Imogen was really platonic, too. I also very much loved Dean, who is a bit of an anti-hero here. At first I was a little annoyed about Imogen's attraction to him, but I very quickly got on board with it. Love him!
Overall, I really liked The Secret. There was so much going on in it, but I felt like it was well paced and fit together really well. It does have pretty dark subject matter – I actually gasped out loud at one part and that never happens anymore – but it was balanced well enough that it's not one of those books that just depresses you when you're done with it. The only thing I didn't really like was that I felt the ending was a little too open-ended. While the case was solved, there were still some loose ends that weren't tied up. I'm sure they will be in the next book, though, which I am very excited to read.
Overall Rating (out of 5): 4 Stars