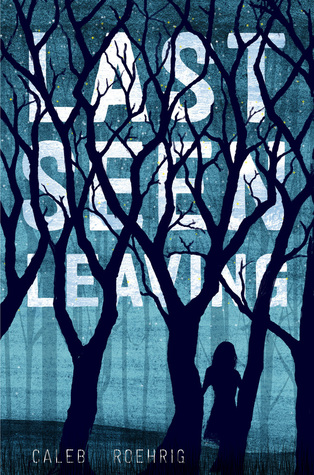 Synopsis from Good Reads:
Flynn's girlfriend has disappeared. How can he uncover her secrets without revealing his own?

Flynn's girlfriend, January, is missing. The cops are asking questions he can't answer, and her friends are telling stories that don't add up. All eyes are on Flynn—as January's boyfriend, he must know something.

But Flynn has a secret of his own. And as he struggles to uncover the truth about January's disappearance, he must also face the truth about himself.
I received a copy of this title from NetGalley. It does not impact my review.
I went into Last Seen Leaving without knowing anything really about it, other than the synopsis, and I was anticipating great suspense and mystery. I thought maybe Flynn's big secret involved him being some type of psychopath or somehow directly responsible for whatever happened to January. Unfortunately, I think those expectations made me pretty disappointed in the story I actually got.
We figure out Flynn's secret pretty quickly (by the second chapter), so I don't feel it's a spoiler to tell you what it is, but if you really don't want to know, stop reading now…His big secret is that he's gay. Which has nothing whatsoever to do with January's disappearance. So I figured this was a Coming Out book. Which is a fine book to be, but just not the one I was expecting to be reading. However, as the story went on it still focused on the mystery of January's disappearance with Flynn coming to terms with his sexuality being the secondary plotline and it ended up working for me. It wasn't as angsty as I was fearing – in fact it almost seemed a little too easy? But, I thought it was handled pretty well and it made for a "diverse" character who was much more than just the one thing that makes him diverse.
While it did handle the Coming Out plotline well, it lacked on the mystery and suspense front for me. Flynn just kind of kept stumbling upon information and the only time we ever see the police is when they're pointing fingers at him, which just made them seem kind of inept. Then Flynn would find all these things out and not tell anyone about it. I tried to cut him slack since he is only 15, but he was just so immature and often dumb with how he handled things that I found it really frustrating.
Though he often frustrated me, I did like Flynn and I liked his new friend/love interest Kaz (though the age difference did make me just slightly uncomfortable), but the rest of the characters were pretty underdeveloped or unlikable. Maybe my biggest complaint with the story is January. She was just an awful person and I didn't really understand how sweet Flynn was such great friends with her. She was very childish and bratty and very dramatic. We also find out as the story goes on about how she misrepresents pretty much everyone in her life to everyone else. She tells Flynn awful things about the people at her new school that aren't completely true and then she tells her new friend awful lies about Flynn. Other than a desire for drama, there was no explanation for that and it really bugged me.
For a debut, the writing was pretty good, though I did have a few issues with it as well. For the most part Flynn sounded like your average 15 year old boy, but occasionally he would randomly use much more sophisticated vocabulary and it just came across a little odd. Also, instead of saying January's name whenever she was referred to, the phrase "my ex-girlfriend" was used about 1,000 times. Like, it could be a drinking game.
Overall, Last Seen Leaving was an ok read for me. The pacing was a little slow and the mystery and suspense aspects were not as well done as I would have liked. However, the subplot of Flynn coming to terms with being gay were pretty well done and did not overwhelm the overall plot, which is what I was afraid of when I first figured out what the big "secret" alluded to in the synopsis. I know the official synopsis is not the author's fault, but I think it does the book a disservice by kind of misrepresenting how Flynn's "secret" impacts the mystery (because it doesn't).
Overall Rating (out of 5): 2.5 Stars