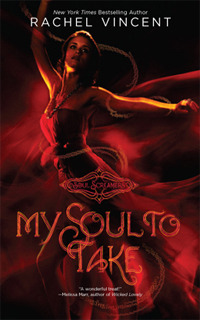 Synopsis from Good Reads:
She doesn't see dead people. She senses when someone near her is about to die. And when that happens, a force beyond her control compels her to scream bloody murder. Literally.

Kaylee just wants to enjoy having caught the attention of the hottest guy in school. But a normal date is hard to come by when Nash seems to know more about her need to scream than she does. And when classmates start dropping dead for no apparent reason, only Kaylee knows who'll be next.
March has been a pretty slow reading month for me so far and My Soul to Take is the first book that's inspired me to write a review. The Soul Screamers series is one that's never been on my radar, but was part of the haul I won in a giveaway recently and I'm glad I gave it a go.
Kaylee is a banshee. A different term is used in the book, but it's two words and pronounced the same, so I'm going with "banshee". I haven't encountered books about banshees before, so it was an interesting new twist for YA paranormal for me. For those unfamiliar, banshees are not-quite-humans who scream (or "sing") for a soul that is about to be taken. Kaylee sees shadows and feels crushing grief whenever someone around her is about to die. While banshee myth is traditionally women, there are also male banshees and they can't tell when a person is about to die, but once it's happened, they can see the soul and can sometimes "redirect" it back into the body. However, doing so means someone else will have to die in the person's place.
Kaylee has had a few episodes when the need of uncontrollable screaming takes over and her aunt and uncle, who she lives with, explain it away as panic attacks, but Kaylee has always known it's a little more than that. When she has an "attack" at a club she's calmed down by hottie-hot-hot Nash. Cue Typical YA Trope where the "Special Girl" who is more beautiful than she realizes falls head-over-heels into insta-love with the Hottest Guy Ever Who Has Never Noticed Her Before. Despite the cliché, I was ok with Kaylee and Nash's relationship. While Nash has to explain a lot to her, they felt like pretty equal characters, needing to work together to save anyone. I'm still trying to decide if he's mysterious or shady. There's a lot that he holds back and by the end of the book I still feel like there's a lot more about him that we don't know.
In addition to the two main characters, we also get to know Kaylee's aunt and uncle, popular cousin, best friend (who is mostly absent due to being grounded), and a reaper who has ties to Nash. I really liked Uncle Brendan and am intrigued by Tod, the reaper (but super annoyed it's spelled with only one "d". I don't know why, but it bugs me).
I felt like the main mystery of the dying girls took backstage to Kaylee finding out about her family heritage of banshees and her romance with Nash. However, the resolution to it took me by surprise and I kind of liked that it wasn't a typical "happily ever after" ending.
Overall, I enjoyed My Soul To Take and I think it broke me out of my reading rut. I'm looking forward to reading the next book in the series and would recommend it to people who like YA paranormal.
Rating (out of 5):