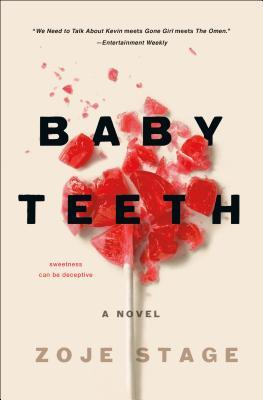 Synopsis from Good Reads:
Sweetness can be deceptive. 

Meet Hanna.

She's the sweet-but-silent angel in the adoring eyes of her Daddy. He's the only person who understands her, and all Hanna wants is to live happily ever after with him. But Mommy stands in her way, and she'll try any trick she can think of to get rid of her. Ideally for good.

Meet Suzette.

She loves her daughter, really, but after years of expulsions and strained home schooling, her precarious health and sanity are weakening day by day. As Hanna's tricks become increasingly sophisticated, and Suzette's husband remains blind to the failing family dynamics, Suzette starts to fear that there's something seriously wrong, and that maybe home isn't the best place for their baby girl after all.
I received a copy of this title via NetGalley. It does not impact my review. 
Baby Teeth will be available July 17, 2018.
The hype for Baby Teeth has been building for months. It's mostly the reason I've kept putting off reading this because I was afraid my expectations were too high. And while it didn't quite live up to the hype, it was still a pretty entertaining read.
It took me a little while to get into the story. The writing style, especially when it came to Hanna's POV, took some getting used to. But once I really got into the story and could start to appreciate what a little psycho Hanna was I started to enjoy it. I became invested in the characters and really wanted to see how it would all turn out.
While I enjoyed seeing what crazy thing Hanna would do next, I did think it dragged on a little too long. The same type of things just kept happening again and again and there was a lot of needless description. Towards the end of the book the plot really began to advance and the power struggle between mother and daughter was really compelling to me and then it just abruptly ended. The ending felt more like it was leaving things open for a sequel than properly giving any type of closure to a stand-alone story. I found it disappointing that just when I was really getting into it, it was over.
Overall, Baby Teeth was certainly an entertaining read, but fell short of the hype for me. A little steadier pace and a less abrupt ending would have made it a little better, in my opinion. I don't know if this book would be for everyone, but I think there are a lot of people who would enjoy it. I could definitely see it becoming a fun, creepy movie.
Overall Rating (out of 5): 3 Stars