Synopsis from Good Reads:
I am tired of being used, hurt, and cast aside.

Adelina Amouteru is a survivor of the blood fever. A decade ago, the deadly illness swept through her nation. Most of the infected perished, while many of the children who survived were left with strange markings. Adelina's black hair turned silver, her lashes went pale, and now she has only a jagged scar where her left eye once was. Her cruel father believes she is a malfetto, an abomination, ruining their family's good name and standing in the way of their fortune. But some of the fever's survivors are rumored to possess more than just scars—they are believed to have mysterious and powerful gifts, and though their identities remain secret, they have come to be called the Young Elites.

Teren Santoro works for the king. As Leader of the Inquisition Axis, it is his job to seek out the Young Elites, to destroy them before they destroy the nation. He believes the Young Elites to be dangerous and vengeful, but it's Teren who may possess the darkest secret of all.

Enzo Valenciano is a member of the Dagger Society. This secret sect of Young Elites seeks out others like them before the Inquisition Axis can. But when the Daggers find Adelina, they discover someone with powers like they've never seen.

Adelina wants to believe Enzo is on her side, and that Teren is the true enemy. But the lives of these three will collide in unexpected ways, as each fights a very different and personal battle. But of one thing they are all certain: Adelina has abilities that shouldn't belong in this world. A vengeful blackness in her heart. And a desire to destroy all who dare to cross her.

It is my turn to use. My turn to hurt.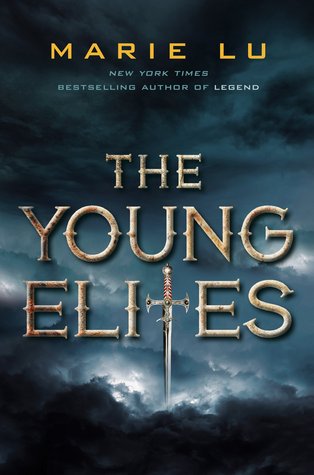 I recently won a giveaway for an ARC of The Rose Society, the second book in The Young Elites series so I decided I should probably read the first book. I've read many glowing reviews for The Young Elites, but it's just been hanging out on my TBR shelf with no real urgency attached to it. Maybe because I never finished reading Legend by this author. Maybe because the cover reminds me of Seeker, which I also wasn't able to finish. For whatever reason, it wasn't high up on my list, but winning the second book definitely pushed it to the front.
I started out really loving this book. It was intense and intriguing and I was glued to the pages. I liked Lu's writing, which surprised me since I wasn't entirely impressed with Legend. The character of Adelina was complex and interesting and I wanted to learn more about her. The action sequence early on was well done and I don't generally like action in books, but I liked it here. As we got to meet each of the new Young Elites in the Dagger society I became more and more intrigued. But then it just became really…slow. A touch confusing. Almost a little boring. I hate to say that. It started out so strong for me and maybe it was asking too much to hope it kept it up for the whole novel.
The Young Elites also isn't quite what I was expecting. I was expecting Villains. And the characters did give off a somewhat villainous vibe. The main characters reminded me a lot of the Darkling from The Grisha series, so that's a major plus. However, they were not as villainous as I wanted or expected. They were an oppressed people fighting for a greater cause. Even if they weren't exactly noble, they came across more as revolutionaries than villains. This is by no means a bad thing, it just didn't feel like what I was promised.
I was very intrigued by Enzo, the leader of the Dagger society. He seemed very complex and his backstory was given, but I felt like there was so much more that could have been explored and I kept waiting for it. We only get his POV once and it's very short. I wanted more. Even though I liked him, I did not really get into the "romance" he had with Adelina. From other reviews I've read I was expecting it to be really intense and I didn't get it at all. This book is not supposed to be based on the romance, which I don't mind, but it was an aspect of it and I didn't think it was well done. I have really high hopes for Enzo in the next book, though I'm not sure how feasible that is. Fingers crossed!
I don't mean to focus on the negative. This book was interesting overall. We did really get to know Adelina and her motivations and she is an interesting character. While not exactly likable, she's empathetic. I look forward to seeing her develop as the series goes on. I'm hoping to see her darker side become even more pronounced in the next book.
Overall, The Young Elites was enjoyable. Even though it left me a little disappointed, it was an interesting idea with strong, complex characters. I think fans of the Darkling from The Grisha series would enjoy it. I am looking forward to seeing what happens next in The Rose Society.
Overall Rating (out of 5): 3 Stars