I read a lot of books that I don't end up reviewing for whatever reason. Some because I wasn't impressed. Some because I didn't have the time. Some I just wasn't feeling it on whatever particular day I finished. Reviewing the Unreviewed is my monthly post where I share my few thoughts on all the books I didn't formally review.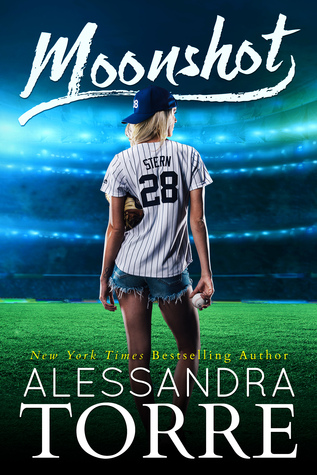 Moonshot by Alessandra Torre. Read March 30-31. (Yes this was in March, but my Reviewing the Unreviewed: March posted before I finished this). 3.5 Stars. 
Short chapters for the win! I really liked how this book was written. I liked how it was told mostly through Ty's 1st person, but occasionally shifted to Chase and also some other little snippets. I loved that the chapters were so short. It made reading this kind of lengthy book not seem long at all. I did start out liking Ty and Chase, even though the age difference was a bit uncomfortable. She was 17 when they first met, but turned 18 not too soon after and he was 5 years older. However, as the book goes on there is So. Much. Cheating. It really took my enjoyment of the book way down. I liked that there was kind of a twist in who the murderer was, but the reasoning behind it I didn't feel made much sense. Overall, I enjoyed the writing and did mostly like the characters, but I dropped my rating down from 4 stars because there is never an excuse for cheating.
Awaken: 90Days with the God Who Speaks by Priscilla Shirer. Read January 1-March 31. (Yes this was in March, but my Reviewing the Unreviewed: March posted before I finished this). 4 Stars. 
There are a lot of things I decide to do on January 1st that I give up on later that month. Thankfully, that didn't happen with this devotional. I committed to reading it daily and I actually did it. My spiritual life and relationship with God has been lacking a lot over the last couple of years and I feel this book definitely helped. I still have a long ways to go, but I feel on the right track. As for the book itself, I thought it started out a little run-of-the-mill, but as we got further into it, I found the lessons went a little deeper and I learned more. I would definitely check out other books by Priscilla Shirer.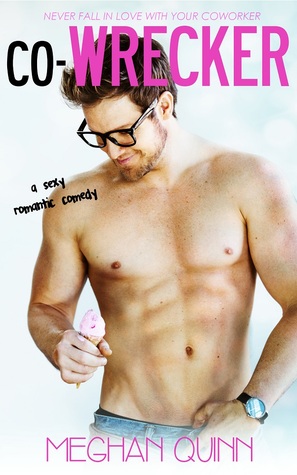 Co-Wrecker (Binghamton #1) by Meghan Quinn. Read March 25-April 1. 3 Stars. 
I always think Meghan Quinn books sound funny, but wasn't sure they would be for me since they also sounded pretty sex-centered. Having finally read one, I think I can safely say that I won't be reading any more from her. While I thought the story was ok and did kind of like the characters, there was way too much graphic content for me to be able to take the book seriously. I also thought Andrew started out so awkward and sweet and quickly turned into someone really crude and was kind of hard to like at times because of it. I almost DNF-ed the book a couple of times, but I was far enough into it that I figured I might as well finish it. So why is this getting 3 stars? I'm giving it an extra star because it did make me LOL several times.
Infinity + One by Amy Harmon Read April 1-3. 4 Stars. 
Amy Harmon always writes such beautiful books, but I think she needs to work on the blurbs. For some reason, I never think that any of her books sound good, based on the synopsis, but I've really liked everything I've read by her and this was no exception. I loved the characters and the romance and the writing. It did drag a little bit towards the middle, but for the most part the character development made up for the slower pace. I also got a little frustrated with Bonnie's refusal to be responsible and have a conversation with anyone (namely the authorities) about the legal issues. I felt it was really selfish, especially considering Finn's past, when the whole thing could have been cleared up so easily. Other than those couple of things I really enjoyed this one and definitely recommend it.
To Kill a Kingdom by Alexandra Christo. Read April 5-8. 3 Stars. 
I thought this started and ended well, but dragged a lot in the middle. I was underwhelmed with the underwater scenes and description (in one there's talk about wiping away someone's tears and I just don't understand how that could happen underwater…). I kind of liked how awful both of the main characters could be. This was not nearly as romance heavy as I thought it would be, so it was kind of a nice change of pace from most of the YA Fantasy I've read. I liked it enough that I would probably check out more from this author, but I don't think this is one that I would want to re-read.
The Dreamer (Dreamland #1) by E.J. Mellow. Read April 8-9. 3 Stars. 
I think if I had read this a couple years ago I probably would've really liked it, but I think now my tastes have kind of changed and I have a little higher standards, so I thought this was good, but not great. I thought it took too long for things to get explained and when they were, they were still kind of confusing. It's kind of a different love triangle that the norm, but I still didn't care for it. The characters were ok, but I never fell in love with any of them. I am interested to see what happens, so I'm going to try to get to the other books before my Kindle Unlimited subscription is cancelled.
The Dreamcatcher (Dreamland #1.5) by E.J. Mellow. Read April 10. 3 Stars. 
This didn't really give me much more insight into Dev or his world than I got from the first book. It wasn't bad, though.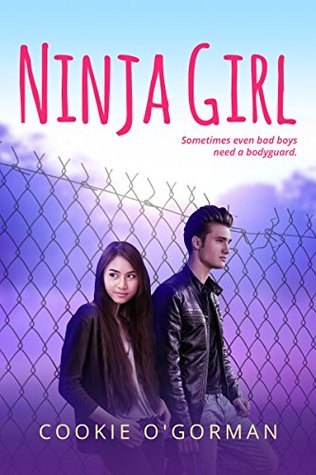 Ninja Girl by Cookie O'Gorman. Read April 12-14. 3.5 Stars. 
This was pretty cute. I liked how Snow was the one doing the saving/protecting, even if I thought hiring a teenage girl to be a bodyguard was a little unbelievable. I liked Snow and Ash and their relationship. I thought the rest of the characters were a little underdeveloped, though. And just like in Adorkable, the best friend character brought the story down a bit. Min-Lee was supportive of Snow for the most part, but I thought her not only staying friends with the mean girl that constantly made fun of Snow, but insisting Snow hang out with her as well was pretty awful friend behavior.
Running Barefoot by Amy Harmon. Read April 14-15. 4 Stars. 
Since this was Amy Harmon's first book, I kind of expected it not to be as good as all of her others. Of course I was wrong. It was beautiful and emotional and thought-provoking and I loved it. I loved the characters and all they went through. Even though it starts out with an uncomfortable age difference, there weren't any lines crossed. I also love the way that Harmon can weave faith into the story so effortlessly that even people who often say "religion ruins a book" for them don't mind it.
Paper Ghosts by Julia Heaberlin. Read April 15-18. 2 Stars. 
It pains me to say this, but I found Paper Ghosts to be a big waste of time. Full review to come next month.
Jar of Hearts by Jennifer Hillier. Read April 20-21. 4 Stars. 
Wow. I hardly know where to even begin with this. Jar of Hearts is the kind of book that you're almost afraid to say you enjoyed because of how dark and twisted it is. But it's one of the best books I've read in awhile. Full review to come next month.
My Sister's Intended (Serendipity #1) by Rachael Anderson. Read April 19-22. 3 Stars. 
A sweet and clean romance. Though the characters were likable, I had a little bit of trouble becoming invested in the story and almost decided to DNF it. I'm glad I decided to finish it, though, since the last couple chapters were pretty enjoyable. I also really love the cover of this one.
I Wanna Text You Up by Teagan Hunter. Read April 23-24. 3.5 Stars. 
While I liked Let's Get Textual a little better, I enjoyed this one, as well. I really didn't care for Zoe in the previous book, so I was a little hesitant going into this one, but she did eventually grow on me. I liked Caleb, as well. I didn't like that they were into each other so immediately. I wish there was a little more build up – especially since Caleb is the ex-boyfriend of Zoe's best friend. (Speaking of best friend, I loved that we got to see a little more of Zach and Delia! I would've loved even more of them.) Overall, this was a fun and quick read and I might need to check out more from this author.
Hangman (Detective William Fawkes #2) by Daniel Cole. Read April 25-28. 4 Stars. 
Ragdoll was my favorite book of 2017 and I have been anxiously waiting for the follow-up ever since. Though the American release date is not for a couple more months, I won a giveaway for a book of my choice and was very excited to see I could get a UK edition of Hangman. While it didn't quite live up to all my expectations, it was a well-written, engrossing mystery. Full review to come.