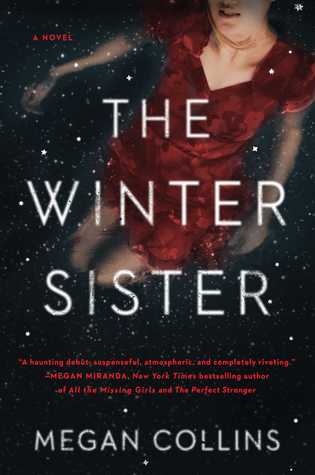 Synopsis from Goodreads:
In this spellbinding and suspenseful debut, a young woman haunted by the past returns home to care for her ailing mother and begins to dig deeper into her sister's unsolved murder.

Sixteen years ago, Sylvie's sister Persephone never came home. Out too late with the boyfriend she was forbidden to see, Persephone was missing for three days before her body was found—and years later, her murder remains unsolved.

In the present day, Sylvie returns home to care for her estranged mother, Annie, as she undergoes treatment for cancer. Prone to unexplained "Dark Days" even before Persephone's death, Annie's once-close bond with Sylvie dissolved in the weeks after their loss, making for an uncomfortable reunion all these years later. Worse, Persephone's former boyfriend, Ben, is now a nurse at the cancer center where Annie is being treated. Sylvie's always believed Ben was responsible for the murder—but she carries her own guilt about that night, guilt that traps her in the past while the world goes on around her.

As she navigates the complicated relationship with her mother, Sylvie begins to uncover the secrets that fill their house—and what really happened the night Persephone died. As it turns out, the truth really will set you free, once you can bear to look at it.

The Winter Sister is a mesmerizing portrayal of the complex bond between sisters, between mothers and daughters alike, and forces us to ask ourselves—how well do we really know the people we love most?
I received a copy of this title via NetGalley. It does not impact my review.
The Winter Sister will be available February 5, 2019.
I'm sorry to say that this one did not live up to my expectations. I've seen some great reviews for The Winter Sister mentioning the beautiful writing and shocking secrets and both fell a little flat for me.
The story is not really anything new. Nothing at all about the mystery plot line surprised me in any way. However, where the book shined was in the interpersonal relationships. Even though Sylvie and her mother, Annie, drove me crazy, their dysfunctional relationship was kind of fascinating. Annie's story of toxic love and the emotional and psychological impact of it to not just her, but her children was compelling and frustrating. The only character that I really liked was Ben and I mostly just felt sorry for him, too.
Overall, The Winter Sister was just not for me. I was looking for a mystery and surprising twists, but it ended up being much more domestic drama. The writing wasn't bad, but it didn't blow me away, either. I also found the ending a little more open-ended then I prefer. Most people have seemed to enjoy this one much more than I did, though, so it still might be worth your time to check out, especially if you are interested in more domestic driven stories.
Overall Rating (out of 5): 2.5 Stars