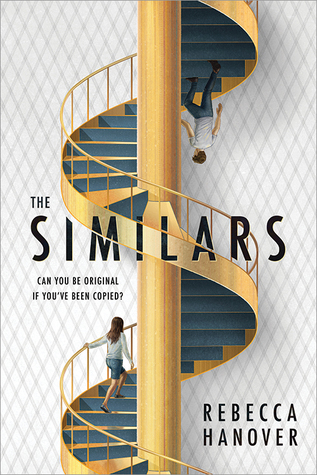 Synopsis from Goodreads:
When six clones join Emmaline's prestigious boarding school, she must confront the heartbreak of seeing her dead best friend's face each day in class.

The Similars are all anyone can talk about at the elite Darkwood Academy. Who are these six clones? What are the odds that all of them would be Darkwood students? Who is the madman who broke the law to create them? Emma couldn't care less. Her best friend, Oliver, died over the summer and all she can think about is how to get through her junior year without him. Then she comes face-to-heartbreaking-face with Levi—Oliver's exact DNA replica and one of the Similars.

Emma wants nothing to do with the Similars, but she keeps getting pulled deeper and deeper into their clique, uncovering dark truths about the clones and her prestigious school along the way. But no one can be trusted…not even the boy she is falling for who has Oliver's face.
I received a copy of this title via NetGalley. It does not impact my review.
The Similars will be available January 1, 2019. 
I thought that the concept for The Similars had potential. Unfortunately, it failed to live up to it for me.
I think the idea of cloning is very interesting. It brings up so many ethical questions. Some of those issues were brought up in the course of the book, however I didn't think it was handled well. Instead of actual discussions and honest questions, it was treated like so many hot button topics are these days: with the two sides yelling their opinions at each other and not having an open mind about it at all. I get enough of this in real life, I don't really want it in my entertainment. The author also tried to draw parallels between cloning and illegal immigration that I felt was a bit of a stretch.
I didn't really love any of the characters. The story is told through Emma's first person POV, so I felt like I got to know her pretty well, but character development was really lacking for everyone else. Emma was likable most of the time, though. The Similars are easily the most interesting characters of the book, but only a little bit of time is spent getting to know any of them. I didn't really get on board the romance. Even though it was obvious what was going to happen, I still felt like it just kind of happened out of the blue.
There are two reveals towards the end of the book that I felt were supposed to be twists, but they were both things I suspected pretty early on in the story. Even though they didn't surprise me at all, I think they have potential to provide some interesting paths in the coming books.
Overall, The Similars was just not for me. Despite an intriguing premise, the lack of character development, somewhat messy writing, and forced political overtones made this a book I was just getting through, rather than enjoying. As of right now, I'm not interested in continuing the series. I am by no means the target audience for this book, though, so those that are may find this a much better read than I did.
Overall Rating (out of 5): 2 Stars