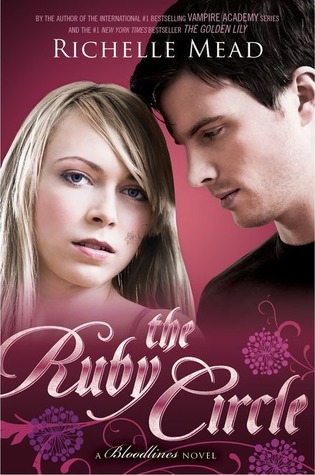 Synopsis from Good Reads:
Sydney Sage is an Alchemist, one of a group of humans who dabble in magic and serve to bridge the worlds of humans and vampires. They protect vampire secrets—and human lives.

After their secret romance is exposed, Sydney and Adrian find themselves facing the wrath of both the Alchemists and the Moroi in this electrifying conclusion to Richelle Mead's New York Times bestselling Bloodlines series. When the life of someone they both love is put on the line, Sydney risks everything to hunt down a deadly former nemesis. Meanwhile, Adrian becomes enmeshed in a puzzle that could hold the key to a shocking secret about spirit magic, a secret that could shake the entire Moroi world.
The Ruby Circle is the last book in the Bloodlines series. I've found this series to be mostly enjoyable (much more than I did Vampire Academy) and this book was a decent ender, but a little underwhelming.
The arc of the book focused on the search for the kidnapped Jill, but most of it just seemed like filler. I usually really like Sydney, but I found myself skimming through most of her POV chapters. Until we got closer to the end, there just wasn't a lot that she did that was interesting. Adrian's chapters were a little better because he's dealing with being a little crazy, but he also is part of the side plot that is, as the synopsis says, "…the key to a shocking secret about spirit magic, a secret that could shake the entire Moroi world"! While it was an interesting development, there was nothing really done with it, which leads me to believe there will be yet another spinoff series.
Also supporting my future spinoff series, Queen Lissa has still not had any progress in changing the law that would keep her queen without a blood relative or approving the Moroi Magic Guardian Squad, which has been a running theme since The Vampire Academy days.
Overall, though, I was glad to see Adrian & Sydney get a happy ending. I liked that even though they got married in the previous book, their relationship still progresses a lot throughout the book. I liked seeing Rose and Dimitri more in this book, too, as well as some of the other supporting cast from the series. One noticeable absence is Angeline, which may bother some, but I never, ever liked her, so I was good with it. While I'll miss Adrian and Sydney, I was ready for this series to end. I think fans of the series will enjoy The Ruby Circle and would recommend to them.
Rating (out of 5):