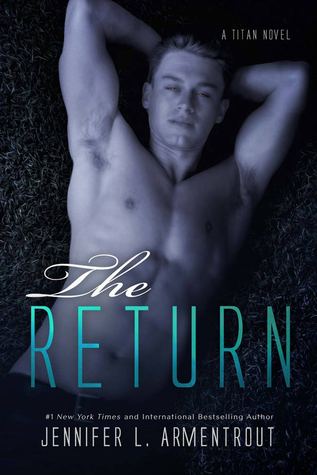 Synopsis from Good Reads:
The Fates are cackling their bony asses off…

It's been a year since Seth made the deal with the gods that pledged his life to them. And so far, the jobs they've given him have been violent and bloody–which is kind of all right with him. But now Apollo has something else in mind for Seth. He's got to play protector while keeping his hands and fingers off, and for someone who really has a problem with restraint, this new assignment might be the most challenging yet.

Josie has no idea what this crazy hot guy's deal might be, but it's a good bet that his arrival means the new life she started after leaving home is about to be thrown into an Olympian-sized blender turned up to puree. Either Josie is going insane or a nightmare straight out of ancient myth is gunning for her.

But it might be the unlikely attraction simmering between her and the golden-eyed, secret-keeping Seth that may prove to be the most dangerous thing of all.

Because history has once again been flipped to repeat.

Seth was pretty much my favorite thing about the Covenant series, so I was really looking forward to The Return. However, I went into it expecting to be disappointed. The Covenant series is YA and Armentrout announced that this series would be NA. By now we all know how much I hate almost all NA books because most of them are basically just a synonym for erotica. I'm glad to report that I was pleasantly surprised by how much I liked this book. With the exception of just a couple of overly graphic scenes, there was way more story to this book than most of JLA's other NA books.
While this is a spin-off of the Covenant series, supposedly you can read it without reading the prior series. However, I would definitely recommend reading the first series before you read this book. There are a lot of references to Alex and Aiden and previous events that are not explained until over half way through this book. It has been awhile since I read the other books and I found myself confused at parts, so I don't know what it would be like for people who have no prior knowledge of the Covenant world.
I still love Seth and enjoyed being able to see his point of view. I found Josie pretty likable as well. She is the classic JLA heroine, so basically if you like one of them, you like all of them. The story was told in alternating 1st person POV, which was fine, but their voices were pretty similar and there were often times it took me awhile to figure out who's view we were getting.
Overall, I enjoyed The Return. I was pleasantly surprised that it read more like a YA book than an NA book. I look forward to reading the rest of the series and would recommend this book to those that read the Covenant series.
Rating (out of 5)