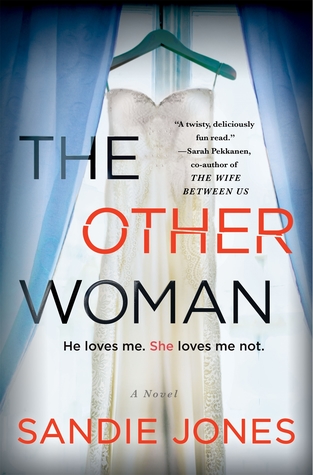 Synopsis from Good Reads:
A deliciously disturbing, compulsively readable debut domestic suspense–prepare to meet The Other Woman: there's nothing she won't do to keep you away from her son …

Emily thinks Adam's perfect; the man she thought she'd never meet.

But lurking in the shadows is a rival; a woman who shares a deep bond with the man she loves.

Emily chose Adam, but she didn't choose his mother Pammie. There's nothing a mother wouldn't do for her son, and now Emily is about to find out just how far Pammie will go to get what she wants: Emily gone forever.

The Other Woman is an addictive, fast-paced psychological thriller about the destructive relationship between Emily, her boyfriend Adam, and his manipulative mother Pammie.
I received a copy of this title via NetGalley. It does not impact my review.
The Other Woman will be available August 21, 2018. 
I thought the synopsis of The Other Woman sounded kind of like a Lifetime movie and I was expecting a really fun, guilty-pleasure type of read. Unfortunately, it fell short of my expectations.
I was really looking forward to seeing what a psycho Pammie would be. Even her name is perfect for the frustrating, overbearing mother-in-law. While she definitely did some underhanded things, she just never got as over-the-top as I wanted her to be. I think for this type of book you really have to go big and it never really got there for me.
I also found Emily, the main character, to be exasperating. She was one of those characters that just always made the wrong choice. She was also pretty spineless. She rarely stood up for herself and when she did she went about it in the wrong way. There were so many times I just wanted to slap her and tell her just to be HONEST and maybe she wouldn't have all these problems. In addition to not liking Emily, I really didn't like Adam. I expected him to be a sweet, yet clueless mama's boy, however he was actually just not a very nice person. I thought he could be abusive and controlling and there were definite red flags – besides Pammie – that Emily just ignored. Their relationship was far more frustrating to me than Emily's relationship with Pammie.
There was a bit of a twist at the ending, but I wasn't really a fan of it. It was something I had begun to suspect, so it wasn't very surprising. I also thought the epilogue left a lot to be desired. I didn't really see the point in it.
Overall, I found The Other Woman to be underwhelming. I really liked the idea of it, but it just never lived up to my expectations. I thought it was pretty slow-paced and drawn out and Pammie never got as crazy as I wanted her to be. My biggest complaint, though, is with Emily's character. If she could have been just a little less annoying I think I would've enjoyed the book a lot more. However, almost every other review I've read of this has been very positive, so it might be worth checking out.
Overall Rating (out of 5): 2 Stars