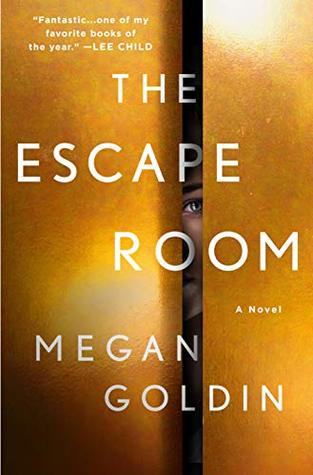 Synopsis from Goodreads:
For fans of JP Delaney's The Girl Before and Ruth Ware's The Woman in Cabin 10 comes this hair-raising novel of deception and revenge that will blow readers away.

Vincent, Jules, Sylvie, and Sam are ruthlessly ambitious high-flyers working in the lucrative world of Wall Street finance where deception and intimidation thrive. Getting rich is all that matters, and they'll do anything to reach the top.

When they are ordered to participate in a corporate team-building exercise that requires them to escape from a locked elevator, dark secrets of their team begin to be laid bare.

The biggest mystery to solve in this lethal game: What happened to Sara Hall? Once a young shining star—now "gone but not forgotten".

This is no longer a game.
They're fighting for their lives.
I received a copy of this title via NetGalley. It does not impact my review.
The Escape Room will be available August 6, 2019. 
The Escape Room started out well, but seemed to lose steam as the story progressed. While it was still overall an enjoyable read, it didn't quite live up to it's potential, or my expectations.
The story is told in alternating chapters between past and present. In the present, we get the third person perspectives of investment bankers Vincent, Jules, Sam, and Sylvie who are stuck in an elevator in what they were led to believe is a team building escape room challenge. The past chapters are from the first person POV of Sara Hall detailing how she came to work at the firm with the others and what it ultimately led to. At first, I had a hard time caring about Sara's chapters because she felt removed from the more pressing action going on in the elevator. After awhile, though, I became more invested in her.
While I was initially much more interested in what was going on with the group in the elevator, their appeal wore off rather quickly. The clues for the escape room were few and far between and what should have felt suspenseful and nerve-wracking just became a little boring and drawn out. Most of the chapters were made up of character exploration, which isn't a bad thing in itself, but when each and every one of the characters are so detestable, it's kind of chore to get through. There was absolutely nothing sympathetic or redeeming about any of them. They were all selfish and shallow and manipulative. It made me not care about the stakes because I didn't really care what happened to any of these characters. I also wish the atmosphere was a little more claustrophobic and stressful. For the most part there was a lot of repetition about how they bumped into each other in the dark and the heater was on really high and it didn't really do anything for me.
Overall, I did find The Escape Room enjoyable, but it fell a little flat for me. The character development was really well done. I just wish that any of characters were worth caring about. I figured out what I think was supposed to be a twist pretty early on in the story and I found the ending a little anticlimactic, as well. However, I think there will be a lot of people that find this a fun summer read and I would be interested in seeing what else Megan Goldin does in the future.
Overall Rating (out of 5): 3 Stars