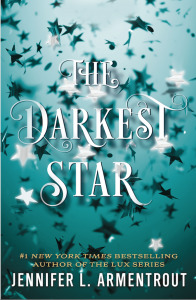 Synopsis from GoodReads:
When seventeen-year-old Evie Dasher is caught up in a raid at a notorious club known as one of the few places where humans and the surviving Luxen can mingle freely, she meets Luc, an unnaturally beautiful guy she initially assumes is a Luxen…but he is in fact something much more powerful. Her growing attraction for Luc will lead her deeper and deeper into a world she'd only heard about, a world where everything she thought she knew will be turned on its head…

#1 New York Times, USA Today, and internationally bestselling author Jennifer L. Armentrout returns to the universe of the Lux in this brand new series, featuring beloved characters both new and old.
I received a copy of this title via NetGalley. It does not impact my review.
The Darkest Star will be available October 30, 2018. 
Jennifer L. Armentrout's Lux series is one of my favorite YA series and I was so excited to learn there was going to be a spin-off. Luc was such an interesting character in the Lux world and I always hoped we would get more of his story someday. While The Darkest Star didn't give me all that I was anticipating, it was definitely a good start to this new series.
I think Armentrout definitely wrote this book so it's possible to read without having read the original series it spun-off from. This is great for new readers, but it did provide me with some frustration. Lux fans already know what Luc is and we know his connection to Evie (maybe we aren't supposed to connect the dots so quickly, but yeah). However, it takes to about the 45% mark before the word "Origin" is used. I felt like there was way too much build up for something I already knew. I also felt like the plot was pretty thin. The whole book is basically Evie finding out about Luc and her connection to him and how she deals with that. There's a bit of a murder and mystery thrown in, but mostly there's just a lot of up set up for future books.
Speaking of things I already knew, I thought that this book was extremely similar to Obsidian, the first book of the Lux series. There were scenes between Luc and Evie that seemed almost carbon copies from scenes of Daemon and Katy. I'm really hoping that symmetry was intentional. I was also expecting Daemon and Katy to play larger roles here, but Daemon is only in a few scenes and Katy is mentioned a couple of times, but never appears. I'm really hoping they pop up in future books because I will always need more Daemon Black in my life. I also liked the Archer cameo and would like more from him, as well.
So, despite some obvious issues, I did really enjoy this book. I have so much love for the first series and just being back in their world was so nostalgic for me. I've always liked Luc and I liked him just as much here. I also thought Evie was a pretty likable character. I really thought we were going to get Luc's POV and was a little disappointed that we didn't, but Evie was a good narrator so I didn't mind it as much as I thought I would. I enjoyed the signature JLA banter between them and look forward to seeing their relationship progress.
Overall, I enjoyed The Darkest Star. I'm increasing my rating by at least half a star just because reading it gave me so much nostalgia for Lux. I'm already planning on going back and re-reading it. I honestly don't know if I can be impartial enough to rate or recommend this book without letting myself be influenced by the first series. I do think that fans of JLA will enjoy this, especially if they read the Lux series.
Overall Rating (out of 5): 4 Stars