This week's Top 5 Wednesday, hosted by the Goodreads group, is a freebie. I decided to share some of the book I've recently removed from my TBR.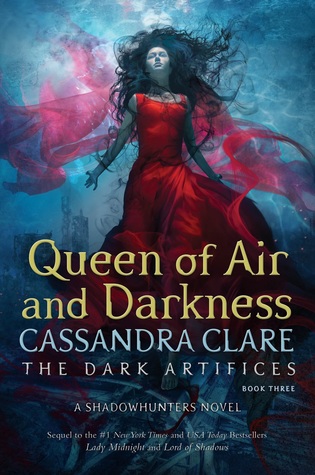 1. Queen of Air and Darkness (The Dark Artifices #3) by Cassandra Clare
First of all, I am not a Shadowhunters fangirl. I have had many problems with the multiple series, but I have also enjoyed several of them, as well. So why am I quitting this series at it's finale? First of all, it's 900+ pages. Just no. I've also happened to read a couple reviews that involved some spoilers and it has made me not at all interested enough to invest my time in this. Maybe if it was around 300 pages I would still give it a try, but not for 900 pages. The only thing I really care about in this series is Julian and Emma and their resolution sounds kind of stupid. I also refuse to ship polyamorous relationships. If that's how you want to live your life, then ok, that has nothing to do with me, live your life. But I'm not going to choose to read and ship it.
2. Kiss Collector by Wendy Higgins
It's been a long time since I've read anything by Wendy Higgins and I was excited for her new book. I did actually get this one from the library and I read the first chapter and knew I was just way too old for this book. I never marked it as reading and I didn't really give it a chance past the first chapter, so I'm not marking it as DNF, I'm just removing it from the TBR.
3. I Like You, I Love Her by J.R. Rogue
I did get this off of Kindle Unlimited and read a few chapters before I knew I wasn't in the right mood for it. I put it back on the TBR because I did plan on trying it again, but the more I think about it, the more I'm convinced I will never pick it up again.
4. Children of Blood and Bone by Tomi Adeyemi
Ok, don't hate. I've read pretty much nothing but wonderful things about this book and I have no doubt the author is very talented. However, lately I just CANNOT get into fantasy novels. Add that to the whole thing on Twitter where Adeyemi accused Nora Fricking Roberts of copying her and I just can't. She did end up apologizing for jumping to conclusions and did eventually delete the tweet, I believe, but how full of yourself do you have to be -as a debut author, no less – to think an author as popular as Nora Roberts would need to copy you to sell books…
5. Moonlight Sins by Jennifer L. Armentrout
This is another book I have actually read several chapters of before deciding I wasn't in the mood for it. I used to want to read all of JLA's book, but a good deal of them end up just not being for me and this series falls into that category.
Have you read any of these books? Should I reconsider any of them?