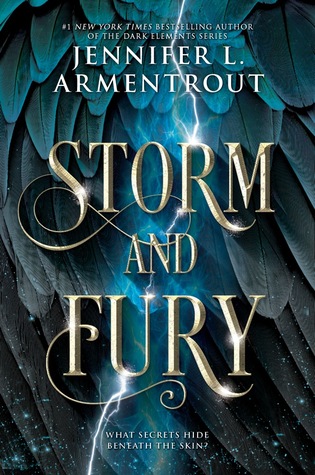 Synopsis from Goodreads:
Eighteen-year-old Trinity Marrow may be going blind, but she can see and communicate with ghosts and spirits. Her unique gift is part of a secret so dangerous that she's been in hiding for years in an isolated compound fiercely guarded by Wardens—gargoyle shape-shifters who protect humankind from demons. If the demons discover the truth about Trinity, they'll devour her, flesh and bone, to enhance their own powers.

When Wardens from another clan arrive with disturbing reports that something out there is killing both demons and Wardens, Trinity's safe world implodes. Not the least because one of the outsiders is the most annoying and fascinating person she's ever met. Zayne has secrets of his own that will upend her world yet again—but working together becomes imperative once demons breach the compound and Trinity's secret comes to light. To save her family and maybe the world, she'll have to put her trust in Zayne. But all bets are off as a supernatural war is unleashed…
I received copies of this title via NetGalley and via a Goodreads giveaway. It does not impact my review.
Storm and Fury will be available June 11, 2019. 
I really enjoyed this. I must confess, I was never a huge fan of the original The Dark Elements series that this series spun-off from and I thought I would feel similarly about this one. However, it definitely surpassed my expectations.
I thought Trinity was a good main character. She frustrated me a little bit with her impulsiveness and argumentativeness, but she was a pretty classic JLA heroine. One thing that really made her stand out is that she's dealing with a vision disability – Retinitis pigmentosa. It causes tunnel vision and a host of other vision problems and will most likely end in blindness. JLA has been diagnosed with this in real life and I have to imagine including this in a character was a bit cathartic, but also difficult. There are parts here and there when Trinity says something about it that I have seen JLA say on social media, so you know this character is very personal to her and it made her that much more special to read.
I also liked seeing Zayne again. I was Team Zayne in The Dark Elements series, even though I knew it was never going to happen, so I was happy to see him really start to move on a bit. I liked his banter with Trinity and his protectiveness of her. I also thought we got just the right amount of Roth and Layla. They're around enough to make fans of the original series happy, while also contributing to the plot in a big way, but they don't take the focus off of Trinity and Zayne.
At over 500 pages, I did think this book was a little too long, though. There is honestly not that much going on and I think it really could've been cut down a bit. However, there is lots of character development and I never felt bored or anything, despite the slow moving plot. There were several reveals saved until the end that I thought were pretty obvious much earlier in the book, but there was one big one that I hadn't seen coming and I liked that it managed to surprise me.
Other than the length, there was only really one other thing I didn't care for. I expect a little more mature content from a JLA book, but there is one scene that I thought was a little too explicit for YA. I could see that an argument could be made for this being New Adult instead of Young Adult since Trinity is 18 and Zane is a few years older, but everything else reads very much YA, so it still felt a little inappropriate.
Overall, I really enjoyed Storm and Fury. I thought it improved upon the original series it spun off from. I liked the characters and shipped the romance. I'm definitely looking forward to the next book in the series.
Overall Rating (out of 5): 4 Stars