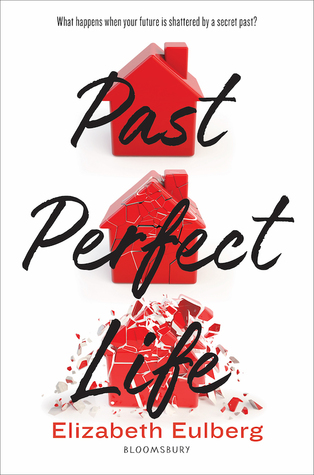 Synopsis from Goodreads:
Small-town Wisconsin high school senior Allison Smith loves her life the way it is-spending quality time with her widowed father and her tight-knit circle of friends, including best friend Marian and maybe-more-than-friends Neil. Sure she is stressed out about college applications . . . who wouldn't be? In a few short months, everything's going to change, big time.

But when Ally files her applications, they send up a red flag . . . because she's not Allison Smith. And Ally's-make that Amanda's-ordinary life is suddenly blown apart. Was everything before a lie? Who will she be after? And what will she do as now comes crashing down around her?

An exciting new direction for acclaimed author Elizabeth Eulberg, Past Perfect Life is a tense and tender read about secrets and lies, reality and identity, and the ways we put ourselves back together when everything is broken.

Perfect for fans of Far From the Tree, this is the story of one teen's search for herself amid the confusion of a shattered past and a future far from all she planned.
I received a copy of this title via NetGalley. It does not impact my review.
Past Perfect Life will be available July 9, 2019. 
I discovered Elizabeth Eulberg a couple years ago and she quickly became one of my favorite YA Contemporary authors. I really can't believe that more people aren't talking about her books. Past Perfect Life was another of her books that I finished in one day.
Ally lives in a small town with her father and her biggest problem is coming up with a decent topic for her college application/scholarship application essay questions. She has a tight-knit group of friends and a great relationship with her father. That is, until her college applications are kicked back for having an invalid social security number. I feel like you can probably already guess what happens based off of the clues in the synopsis, but I kind of find it impossible to review this book without disclosing what happens, so if you really don't want to know, this is your official ***SPOILER ALERT***. Turns out, Ally Smith is not her real name and her mother didn't really die when she was three. When her father was afraid of losing partial custody of her, he fled with her and they have been living under false identities ever since.
This isn't the first YA book I've read with this topic, but I thought it was well done. A lot of time is dedicated to Ally's mental and emotional state around the discovery and then as she tries to adjust to her new life. We also see how it effects the friends she's forced to leave behind and the new family she never knew existed who have been mourning her loss for the past fifteen years. I really loved Ally's friends, the extended Gleason family, especially adorable Neil. I also really liked Ally's step-father. I thought he handled the situation better than anyone else and was overall pretty amazing. I have to say I really didn't care for Ally's mother. I know that she's been through a lot, but I thought she handled everything really poorly, right up until the end, which I thought was just a tad too easy and abrupt. I really could have used an epilogue.
I definitely need to mention Eulberg's writing. She has such an addictive writing style that compels me to keep reading, even when I had decided I was going to set the book down to do something else. I certainly didn't mean to finish this book in one day, but that's exactly what happened because I just had to keep reading.
Overall, I really enjoyed Past Perfect Life. Though it was a heavier read than Eulberg's other books I've read, I thought it was well done. The topic was interesting and Ally's character development was really well done. I liked the cute romance with Neil and the really addictive writing. I definitely recommend that Contemporary fans check this out, as well as some of Eulberg's other books.
Overall Rating (out of 5): 4 Stars