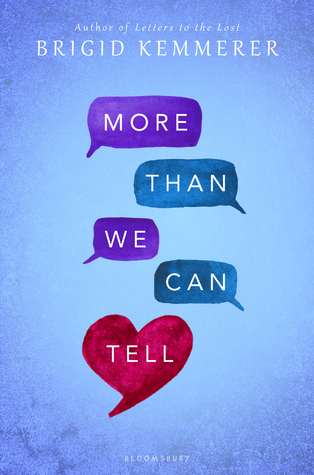 Synopsis from Good Reads:
*While this book exists in the same universe as Letters to the Lost, it is a standalone title.*

Rev Fletcher is battling the demons of his past. But with loving adoptive parents by his side, he's managed to keep them at bay…until he gets a letter from his abusive father and the trauma of his childhood comes hurtling back.

Emma Blue spends her time perfecting the computer game she built from scratch, rather than facing her parents' crumbling marriage. She can solve any problem with the right code, but when an online troll's harassment escalates, she's truly afraid.

When Rev and Emma meet, they both long to lift the burden of their secrets and bond instantly over their shared turmoil. But when their situations turn dangerous, their trust in each other will be tested in ways they never expected. This must-read story will once again have readers falling for Brigid Kemmerer's emotional storytelling.
I received a copy of this title via NetGalley. It does not impact my review.
More Than We Can Tell will be available March 6, 2018. 
My favorite thing about Letters to the Lost was the friendship between Declan and Rev and I was very excited to hear that Rev was going to get his own book. I'm happy to report that I enjoyed More Than We Can Tell even more than I did Letters to the Lost.
As I said, I love Rev and Declan's friendship. No matter what happens they are always there for each other. Even when they don't agree or have an argument, they work through it and I love it. While I would've really liked for the whole book to be filled with the two of them, I was satisfied with the amount of page time we got. I liked that there was some follow up with some of the things Declan dealt with in his book, as well.
This book was Drama, Drama, Drama right from the start. Sexual harassment, divorcing parents, abuse, feeling alone, bullying. I thought it was dealt with very well for the most part, but there was just so much. I felt like Emma especially made a lot of small things much more dramatic than she had to. She was hard to like at times because she was such a little brat to her parents and her best friend and even to Rev at times and the things she said were so uncalled for. She did show some growth by the end of the book, but I feel like she still has a ways to go.
While I adore Rev, he did frustrate me several times in the book. If he would've just talked to his parents or to Declan sooner then he would've had a little less turmoil. However, I tried to remember that he is just a teenager and he was doing the best he could and he did eventually talk to them. (Plus, I'm not really one who can judge somebody for their lack of ability to communicate.) I loved the relationship between Rev and his parents, as well. So often in YA the parents are either missing or awful (and there was some of that in this book, too), but Rev's adoptive parents were wonderful.
Though I thought the immediate intensity of Rev and Emma's relationship was a little unrealistic, I did like them together. There were several super cute moments between them that I enjoyed, but I also really enjoyed how they helped each other emotionally. Their romance didn't "fix" each other, but offered support to each other and I liked that.
Overall, I enjoyed More Than We Can Tell. I'm a fan of Kemmerer's writing and I flew through this book. I loved getting to see Rev and Declan again. Even though I thought the drama was a little over the top at times, I thought there were some good, relatable lessons. I think fans of Letters to the Lost will not want to miss this one, though you don't have to have read it to enjoy this.
Overall Rating (out of 5): 4 Stars