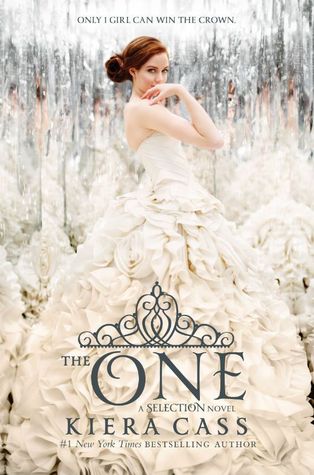 Synopsis from Good Reads:
The Selection changed the lives of thirty-five girls forever. And now, the time has come for one winner to be chosen.

America never dreamed she would find herself anywhere close to the crown—or to Prince Maxon's heart. But as the competition approaches its end and the threats outside the palace walls grow more vicious, America realizes just how much she stands to lose—and how hard she'll have to fight for the future she wants.

From the very first page of The Selection, this #1 New York Times bestselling series has captured readers' hearts and swept them away on a captivating journey… Now, in The One, Kiera Cass delivers a satisfying and unforgettable conclusion that will keep readers sighing over this electrifying fairy-tale long after the final page is turned.
After the train wreck that was The Elite, I did not have high hopes for The One. However, while I wasn't blown away, I was pleasantly surprised with this final installment of The Selection.
It starts out with a lot of the same – America and Maxon having a sweet moment just to have it ruined. And so on and so on. America says once, "I walked away, angry with Maxon for making me feel this way…and angry with myself making things so much worse."I was also quite annoyed with this.
The rebel subplot is much more prominent in this book and it wasn't as bad as I thought it would be. In the previous books I thought it was an unnecessary distraction and that the outcome for it was a little obvious. While my suspicions were confirmed in this book, I think Cass handled it well – much better than the first books.
The pacing was a little slow and it felt like most of the action was packed into the last few chapters. However, I enjoyed the character development of the rest of The Elite and especially Celeste, who was previously my least favorite character. I also really liked the series of letters that Maxon wrote for America.
Overall, I found The One to be a mostly satisfying ending to The Selection. If you've already started the series, I would recommend that you read this. It was far better than the last book!
Rating (out of 5):
Plot: 3
Characters: 3
Readability: 3
Enjoyability: 3
Overall Average: 3 stars