Synopsis from Good Reads:
Surprises abound and sparks ignite in the highly anticipated, utterly romantic companion to My Life Next Door

Tim Mason was The Boy Most Likely To:
– find the liquor cabinet blindfolded
– need a liver transplant
– drive his car into a house

Alice Garrett was The Girl Most Likely To:
– well, not date her little brother's baggage-burdened best friend, for starters.

For Tim, it wouldn't be smart to fall for Alice. For Alice, nothing could be scarier than falling for Tim. But Tim has never been known for making the smart choice, and Alice is starting to wonder if the "smart" choice is always the right one. When these two crash into each other, they crash hard.

Then the unexpected consequences of Tim's wild days come back to shock him. He finds himself in a situation that isn't all it appears to be, that he never could have predicted . . . but maybe should have.

And Alice is caught in the middle.

Told in Tim's and Alice's distinctive, disarming, entirely compelling voices, this return to the world of My Life Next Door is a story about failing first, trying again, and having to decide whether to risk it all once more.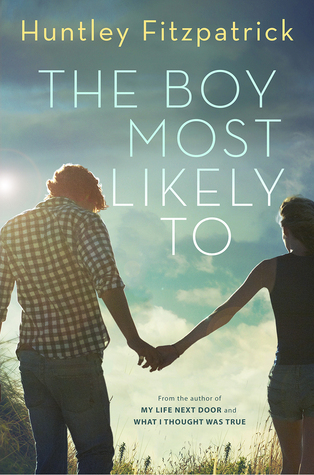 4 Stars for Tim. 2 Stars for Alice. So I guess 3 stars overall.
This was a book I'd been looking forward to ever since I heard it was going to happen. Though I had my issues with My Life Next Door, it was so cute and I liked Tim and I was ready for more. After the reviews came out, though, I started to be not so interested. Most of the reviews were good, don't get me wrong, but they all said the same thing – this isn't the cute romance we were all expecting. It has heavier themes and the romance is more of a side plot. I decided to read it anyways and did end up liking it more than I thought I would, but not as much as I wanted to.
We get both Alice and Tim's 1st Person POV, which is a style I like. Unfortunately their voices sounded almost exactly the same. It usually wasn't an issue, though, since they spent so much time in their own storylines, but there was a few times when they were together that I got confused on which perspective I was getting.
I really loved almost everything with Tim. I thought a certain plotline was going to annoy the crap out of me, but it actually ended up (mostly) working for me. More on this a little later. Alice, though was a different story. I felt like she had a lot of storylines and none of them were really well developed. Trouble with an ex-boyfriend that never gets resolved. Issues with Sam's mother that's taken care of a little too easily. Something about nursing school? I felt like maybe Fitzpatrick didn't know what to do with Alice so she kept adding stuff to her plate and then kind of leaving it there. I think this book actually would have worked much better if it was just Tim's perspective.
The romance between Tim and Alice is not anywhere near as cute as it was with Jase and Sam. I really liked their friendship and once they became an actual couple they were steady and strong. But all the cuteness I wanted in between was missing. And everything seemed so out of the blue. When Alice asks Tim out it's basically out of nowhere. The same thing when they have their first kiss. It was just hard to really feel the chemistry between them and it was one of the weaker parts of the story for me.
I liked seeing the Garrets again, but I would have liked more Jase and Sam. And more George. This time around Patsy is the adorable youngster we get the most time with and I did like her.
***SPOILER TIME***
My first guess when I read "Then the unexpected consequences of Tim's wild days come back to shock him" was that he would have a surprise kid. And surprise! I was right. I actually found out from a spoiler review before I read the book, but I didn't really feel spoiled because that's what I thought anyways. It was also my suspicion that the kid wouldn't really be his. Which was really reinforced by the first conversations Tim has with Hester. I was so annoyed at Tim for not questioning it at all or getting a paternity test. I think he still could've stepped up with Calvin, while waiting for the paternity test to come back. Also, from the moment it's mentioned that Tim's AA friend Jake has a partner and they want a kid, I knew that Calvin would end up with them. Even though I ended up liking how Tim grew up through his time with Cal, the whole arc was just so cliché.
***END OF SPOILER***
Overall, I did enjoy The Boy Most Likely To. It wasn't what I initially thought it would be, but that's ok. I really enjoyed reading Tim's parts and while I liked Alice, I would have been fine not getting her perspective. I would still recommend this to fans of My Life Next Door, as long as they go into knowing it's not Sam & Jase 2.0.
Overall Rating: 3 Stars