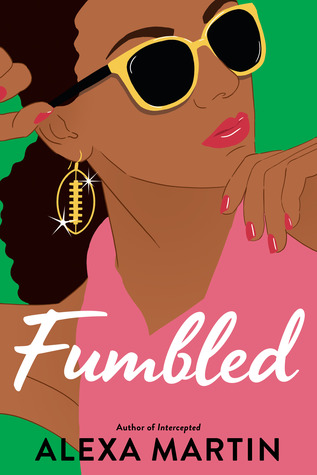 Synopsis from Goodreads:
A second chance doesn't guarantee a touchdown in this new contemporary romance from the author of Intercepted.

Single-mother Poppy Patterson moved across the country when she was sixteen and pregnant to find a new normal. After years of hard work, she's built a life she loves. It may include a job at a nightclub, weekend soccer games, and more stretch marks than she anticipated, but it's all hers, and nobody can take that away. Well, except for one person.

TK Moore, the starting wide receiver for the Denver Mustangs, dreamt his entire life about being in the NFL. His world is football, parties, and women. Maybe at one point he thought his future would play out with his high school sweetheart by his side, but Poppy is long gone and he's moved on.

When Poppy and TK cross paths in the most unlikely of places, emotions they've suppressed for years come rushing back. But with all the secrets they never told each other lying between them, they'll need more than a dating playbook to help them navigate their relationship.
I received a copy of this title via NetGalley. It does not impact my review. 
Fumbled will be available April 23, 2019.
I really enjoyed Alexa Martin's debut, Intercepted, and her follow up book solidifies her status as one of my favorite Romance authors.
I am not usually a fan of the "Surprise, you're a father!" trope, but that did not negatively impact my enjoyment of Fumbled. I thought that part of the plot actually worked out well, though I did feel it resolved itself just a little too easily. There were things that happened when Poppy first found out she was pregnant that I didn't feel were really discussed enough and Ace, now nine, is old enough to have questions he never asks. He just 100% embraces TK as his father and there's no awkwardness or anything. However, maybe the the lack of the mega drama I expected was why it worked for me.
I really liked Poppy and TK together. I would've loved to have had some flashbacks to when they were first together, but even without it the whole Second-Chance Romance worked for me. I definitely shipped them. I loved how sweet TK could be, both with Poppy and with Ace. I liked him in the previous book and I was glad to see more of him in this one. Poppy was a good main character, though her short temper did frustrate me sometimes. I also really enjoyed Poppy's group of friends and seeing some of the characters from the first book again.
In a book with such a focus on professional sports, I thought it was really nice to see the subject of head injuries play such a large part of the story. I thought it was woven into the story really thoughtfully and you can tell it is something important to the author – a wife of a former football player herself – to shine a light on.
Overall, I really enjoyed Fumbled. Though it tackled (see what I did there?) some more serious subjects than the previous book did, it was still a really fun read that I didn't want to put down. I loved the characters and shipped the romance. I am definitely anxious to read whatever Alexa Martin writes next.
Overall Rating (out of 5): 4 Stars