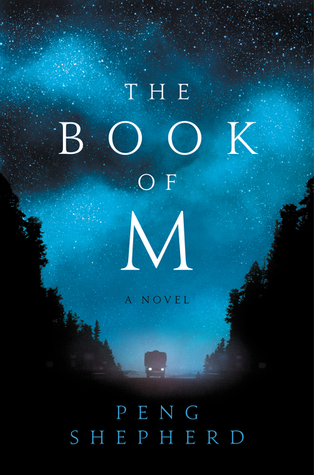 Synopsis from Good Reads:
Set in a dangerous near future world, The Book of M tells the captivating story of a group of ordinary people caught in an extraordinary catastrophe who risk everything to save the ones they love. It is a sweeping debut that illuminates the power that memories have not only on the heart, but on the world itself.

One afternoon at an outdoor market in India, a man's shadow disappears—an occurrence science cannot explain. He is only the first. The phenomenon spreads like a plague, and while those afflicted gain a strange new power, it comes at a horrible price: the loss of all their memories.

Ory and his wife Max have escaped the Forgetting so far by hiding in an abandoned hotel deep in the woods. Their new life feels almost normal, until one day Max's shadow disappears too.

Knowing that the more she forgets, the more dangerous she will become to Ory, Max runs away. But Ory refuses to give up the time they have left together. Desperate to find Max before her memory disappears completely, he follows her trail across a perilous, unrecognizable world, braving the threat of roaming bandits, the call to a new war being waged on the ruins of the capital, and the rise of a sinister cult that worships the shadowless.

As they journey, each searches for answers: for Ory, about love, about survival, about hope; and for Max, about a new force growing in the south that may hold the cure.
I received a copy of this book from the publisher. It does not impact my review. 
The Book of M will be available June 5, 2018. 
The Book of M is certainly an ambitious debut. Covering multiple characters, countries, and time in painstaking detail, it explores a new dystopian world where the loss of memories results in dangerous magic.
While I did like the book, I wanted to like it more than I actually did. The pace is pretty slow as the world building is established and it took me awhile to really get into the story. The writing was very detailed and I personally would have appreciated a little less. I thought it made the book much longer than it needed to be. However, it was pretty character-driven and I did feel like I got to know the main characters pretty well.
The story is told in the POV of Ory, Max, Naz, and The One Who Gathers. Ory and Max are married and when Max loses her shadow she decides to leave Ory so she won't accidentally hurt him. She comes across a group of other Shadowless heading to New Orleans and joins them. Ory is desperate to find her and along the way comes across a group of other Shadowed, including Naz, a former Olympic hopeful in archery who now helps lead the soldiers of her group. Both groups are trying to find out if the rumors they've heard about New Orleans are true. The One Who Gathers was once just a man with retrograde amnesia who became connected with the first man to lose his shadow and his memories, but has become something incredibly different. I did think all the POVs were well done. I liked all of the characters, but I never really fell in love with any of them, which made it kind of difficult to really care about what happened to them.
Overall, I enjoyed The Book of M, but I didn't love it. I liked the characters and how they all became connected. However, I thought the plot was a little drawn out and felt the emotional impact I was supposed to experience missed the mark a bit. While this dystopian tale may not be for me, I think there will be a lot of people that will really like it. I recommend it if you enjoy character-driven novels with a touch of magical realism. I do look forward to seeing what Peng Shepherd writes next.
Overall Rating (out of 5): 3 Stars