I read a lot of books that I don't end up reviewing for whatever reason. Some because I wasn't impressed. Some because I didn't have the time. Some I just wasn't feeling it on whatever particular day I finished. Reviewing the Unreviewed is my monthly post where I share my few thoughts on all the books I didn't formally review.
A Noise Downstairs by Linwood Barclay. Read July 30 – August 1. 4 Stars.
I thought this book was a little more psychological suspense than the other books I've read by Barclay have been so it was different than I expected, but I liked it. I thought I had absolutely everything figured out, but it turned out I was only partially right. The story took a turn I definitely didn't expect and while I do wish it had maybe gone a little differently, it was a ballsy move and did serve the story well.
The Craftsman by Sharon Bolton. Read August 2-6. 4 Stars. 
Sharon Bolton has written some of my favorite books and I have been eagerly anticipating The Craftsman for quite awhile. Like I have come to expect from Bolton's books, it was a well done, suspenseful mystery. It was even a little creepy at times. But it definitely took a departure into the supernatural that I was not expecting. Full review to come.
A Boy Like You (Like Us #2) by Ginger Scott. Read August 7-8. 4 Stars.
I've struggled with what to rate this. It's probably closer to a 3 or 3.5, but I've decided to bump it up to 4 for a few reasons. There were parts that were really romantic and sweet. I adored Wes and his family. I also found this pretty compulsively readable. Even though it was super angsty (not really my cup of tea) and I was pretty frustrated with Joss quite often I never really wanted to stop reading it. It did take me over half the book to begin to like Joss and even now I'm not really that big of a fan of her. I also got a weird Twilight vibe at times that I wasn't really expecting. No review I've read mentioned this falling into the magical realism category and the book never actually goes there, but it ends with unanswered questions. I didn't love the direction the story took in the end, but I am really looking forward to reading the next book.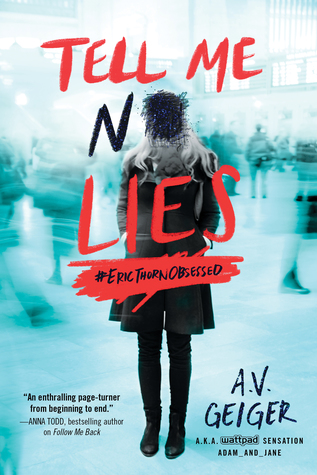 Tell Me No Lies (Follow Me Back #2) by A.V. Geiger. Read August 8-9. 3 Stars.
I was pleasantly surprised with Follow Me Back and have been looking forward to this one ever since. While it was ok, it kind of disappointed me. I thought what was happening was pretty obvious long before it was revealed and then I kept waiting for another twist or surprise to come at the ending, but nothing did. There were still a few good tense moments here and there, though, and I liked the formatting with the police interviews interspersed throughout the story.
A Kiss in the Dark by Gina Ciocca. Read August 10-12. 3 Stars.
This was a little longer than it needed to be and was pretty predictable, but there were definitely a few cute moments. I thought Macy was pretty likable. I absolutely adored Ben. I liked the alternating timeline and thought it was used well. One thing I never understood though was Macy's friendship with Meredith. Even in the "Junior Year" chapters Meredith didn't seem like a very good friend. She was more like a frenemy. She doesn't seem like someone Macy should want to reconnect with. She kind of redeems herself at the end, but their whole relationship just rubbed me the wrong way.
Always Never Yours by Emily Wibberley and Austin Siegemund-Broka. Read August 10-13. 2.5 Stars.
I love that the authors who wrote this are a couple. #RelationshipGoals. I enjoyed some of the bantering, there were some cute moments, and except for a couple of things he handled poorly, I really liked Owen. That's kind of the end of my "likes" for this book, though. It was super over-dramatic. Megan was a really unlikable main character. She was so, so shallow and then she got really upset that people thought she was shallow. She did have some learning/character development moments, but they honestly just came across a little cheesy. I thought all her problems with her blended family was resolved way too quickly. I also thought her views on sex and intimacy for most of the book were pretty skewed and potentially damaging to young readers. I wish it was handled a little more responsibly.
Lies by T.M. Logan. Read August 22-25. 4 Stars. 
Lies is a well-paced, entertaining thriller that managed to surprise me. My full review will post next week.
A Girl Like Me (Like Us #2) by Ginger Scott. Read August 25-26. 3 Stars. 
It may have just been my mood, but I just wasn't really into this. I found it kind of boring and things weren't really explained to my satisfaction. I didn't really care for the fantasy-like elements. This is probably more like 2 or 2.5 stars for me, but I'm bumping it up to 3 because it was a fast, easy read and there was nothing wrong with the writing. I think it's just not the book for me.
On Magnolia Lane (Blue Ridge Romance #3) by Denise Hunter. Read August 27-28. 4 Stars. 
I've enjoyed the other books in the Blue Ridge Romance series and On Magnolia Lane just might be my favorite of the series. Full review to come closer to release date.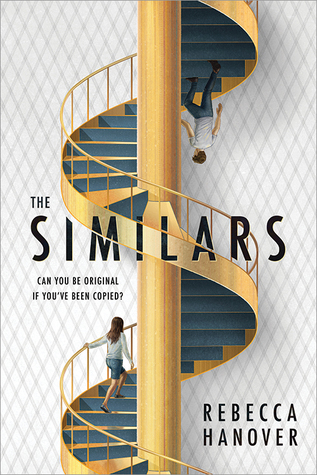 The Similars (The Similars #1) by Rebecca Hanover. Read August 28-30. 2 Stars.
I thought that the concept for The Similars had potential. Unfortunately, it failed to live up to it for me. Full review to come.
************************Back on the TBR************************
Friday Night Brides by Samantha Chase and UNSUB by Meg Gardiner. I feel like I've been waiting to read both of these books for a really long time, but I started both of them and just couldn't get into them. I don't want to give up on them entirely, though, so I'm putting them back on the TBR for another time instead of marking them as DNF.
************************Re-Read************************
Better off Friends by Elizabeth Eulberg. I really loved this book just as much the second time around. It's so sweet and oh my goodness the banter!