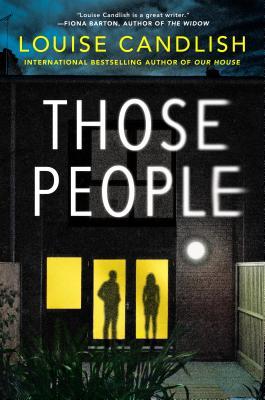 Synopsis from Goodreads:
From the author of the international bestseller Our House, a new novel of twisty domestic suspense asks, "Could you hate your neighbor enough to plot to kill him?" 

Lowland Way is the suburban dream. The houses are beautiful, the neighbors get along, and the kids play together on weekends.

But when Darren and Jodie move into the house on the corner, they don't follow the rules. They blast music at all hours, begin an unsightly renovation, and run a used-car business from their yard. It doesn't take long for an all-out war to start brewing.

Then, early one Saturday, a horrific death shocks the street. As police search for witnesses, accusations start flying–and everyone has something to hide.
I received a copy of this title via NetGalley. It does not impact my review.
Those People will be available June 11, 2019. 
Those People started off very strong for me, but lost a little of it's steam along the way. However, it was still a highly entertaining story that I enjoyed.
Who hasn't had a horrible neighbor? As a long time renter, I'm used to sharing walls and ceilings and though I do get frequently frustrated, I have a pretty high tolerance for other people's noise. There has only been one neighbor that was so awful I complained to management about, but it was nothing compared to what happened with the people on Lowland Way. The street is idyllic with neighbors that all know each other and get along. They even have a standing agreement to close off the street every Sunday so the kids can play without fear of cars. Everything gets turned upside down, though, when the Booths move in. They play loud music while working on noisy home renovations at all hours of the night and take up all the parking spots on the street with their questionably legal car business. They also don't care at all what anybody else thinks of them. They are completely unapologetic about the mess and the noise they make or how it effects anyone else. This causes all the "sensible" people on the street to lose their minds a bit.
The story is told through multiple POVs, rotating mostly between Ralph, Tess, Ant, and Sissy. For about the first half of the book, each chapter begins with a short excerpt from a police interview. It gave me serious Big Little Lies vibes and I loved it. I loved seeing how the neighbors all interacted with each other and the gradual reveal of the mystery of who was killed. Where it started to lose momentum for me was after the victim was revealed and the investigation took over the focus. I wasn't terribly surprised by any of the reveals after that and I felt it was a little longer than it really needed to be. What I did like, though, was seeing how the situation started to drive everyone to madness. It was fascinating seeing how different people reacted to the stress.
Overall, I enjoyed Those People. I loved the multiple POVs and the inclusion of the police interviews. I wish that format would have been kept up the whole way through. Though it did end up being a little longer than it needed to be and the little surprise at the end does not compare to the twist at the end of Our House, it was still a really enjoyable and addictive read. I definitely look forward to more from Candlish.
Overall Rating (out of 5): 4 Stars